Grisha Stewart's Animal Building Blocks Academy Facebook discussion group is great member benefit. This community of pet lovers is a supportive place to share your training efforts, discuss ABBA lessons with your fellow students, network with potential clients, and even find a training buddy near you. Members can just request to join Grisha's Facebook group to start chatting!
Questions? Read the Clubhouse FAQ.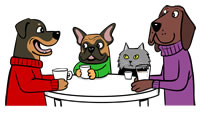 Clubhouse Rules: We support freedom of expression, but 'positive' does not mean permissive and this is a safe, private campus community where we all do our best to be kind. We reserve the right to cancel your Animal Building Blocks membership if you are not able to follow these rules. Please try to handle things yourself first, but report any violations to help us keep this community a pleasant place.
Please treat each other with respect. That means interpreting what the person writes with the best intentions and responding in kind. NO personal attacks, insults (implied or direct), or other snarkiness in this community. Please remember that we are all people here. Give yourself some time to ponder to avoid publishing inflammatory comments.
No profanity. Assume a child maybe reading your post.
Advocate only force-free training techniques. If you have an open mind and are truly trying to sort out why to use the force-free training from this site rather than what you have used before, it is fair to ask questions about that. However, if you are trying to convince others to use corrections or other tools we do not use, that is not allowed. This includes shock collars, choke chains, prong collars, squirt bottles, electric fences/mats, and all other similar tools.
Promotion of training schools that use force or mixed methods (force-free plus corrections, aka 'balanced training') is not allowed. For such schools, the creation of a group and the inclusion in the directory are not allowed. ABBA's core curriculum is about how to teach and problem-solve in a force-free way.
Keep Group Content on topic. Social networking allows for sharing, but for ABBA learning purposes, please keep content focused on the topic/discussion/intent of the group or as otherwise advised by the Group Moderator. We like cute videos and abhor horrible events as much as anyone, but feel those are best shared outside of a BBA group. You can share those as an update with viewing restricted your Friends, for example.
Respect the privacy of others, including Clients. Learning includes discussion on a variety of experiences as pet owners and trainers. When sharing personal accounts of sessions, classes or any other "training experience" that is not exclusively your own, please refrain from using names or any other explicit information (breed, age) that may specifically identify the person or animal.