If you have purchased this eBook, please log in with the user info that you created.
Book Description
Grisha Stewart's acclaimed book, "The Official Ahimsa Dog Training Manual: A Practical, Force-Free Guide to Problem Solving & Manners," is available here on this page as an eBook and as a printed book through the sources below. This book is a general dog training manual for the most common problems and necessary training for dogs in our homes.
UPDATED! Now includes more illustrations, leash handling skills, and information about BAT 2.0 for reactivity.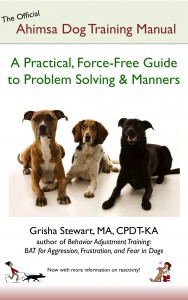 SAMPLE: Click to read the first chapter.
This 160-page book is an introduction to dog training that started as the companion exercises for Ahimsa Dog Training classes in Seattle. It has practical exercises that start from a basic level and work up through advanced work on the most important behaviors for dogs to know. This quick manual is helpful for dog trainers to use with clients or new ideas for exercises and for breeders to share with new puppy parents.
The Ahimsa Manual includes info on how dogs learn, clicker training, how to get rid of bad behaviors (puppy biting, fear/aggression, separation anxiety, etc.), and how to teach good behaviors, like coming when called, the name, watch, relaxation, sit, down, stay, wait, touch, walking on leash, give, go to your bed, and more! Illustrations help make the information clear and entertaining.
Look at the bottom of this page for the exact topics covered plus reviews by Paul Owens and other dog behavior and training experts.
Purchase the eBook
eBook Formats: You should be able to read the book on pretty much any device. You'll get access to all of these file types with your purchase.
MOBI (Amazon Kindle device and apps)
EPUB (Nook, iBooks, Google books, etc.)
PDF (Adobe on your computer, iBooks, etc.)
If you have purchased this eBook, please log in with the user info that you created.
Table of Contents (subject to change):
INTRODUCTION
COMMUNICATION & LEARNING GO BOTH WAYS
UNDERSTANDING YOUR DOG'S COMMUNICATION
LEARNING THEORY

Four types of consequences for behavior
Focus on the good stuff
Killing with kindness: a note on rewards

CLICKER TRAINING WORKS!
WHAT IS A CLICKER?
WHY DOES THE CLICKER WORK?
GETTING RID OF PROBLEM BEHAVIORS
JUMPING & OTHER ACCIDENTALLY TRAINED BEHAVIORS
HOUSETRAINING
PUPPY BITING & CHEWING
15 TIPS TO STOP BARKING IN CLASS
FEAR, FRUSTRATION, AND AGGRESSION

Counterconditioning and systematic desensitization
Behavior Adjustment Training (BAT 2.0)

DON'T LEAVE ME! PREVENTING SEPARATION ANXIETY
HEY, THAT'S MINE! PREVENTING & DEALING WITH RESOURCE GUARDING
GOOD HABITS ARE HARD TO BREAK!
TEACHING RELIABLE BEHAVIORS
CHOICE POINTS-SET YOUR DOG UP FOR SUCCESS
NAME GAME
WATCH
RECALL CUE-COMING WHEN CALLED

Things to avoid when training Come
General tips for Come
Treat Party-the emergency recall cue
Practice all the time
Gradually make it harder
Treat fetching-A fun way to train and play!
More recall games

RELAXATION ON CUE
SIT
DOWN
RELEASE WORDS-ARE WE THERE YET?

Release cue
End of session cue

STAY
WAIT
TOUCH-TARGETING NOSE TO HAND
LOOSE LEASH WALKING
Click for attention / Click for position

Turn and follow
Focused walking (Touch and you're heeled!)
Being a tree or backing up
Speed training
Penalty yards
Silky leash technique

LEAVE IT
GIVE OR DROP IT
TUG
RULES
101 THINGS TO DO WITH A BOX
GO TO YOUR BED
CRATE TRAINING
ADDING A CUE TO ANY BEHAVIOR
GOOD LUCK AND KEEP IT UP
RESOURCES FOR EVEN MORE HELP
ABOUT THE AUTHOR
---
REVIEWS!
"Of the thousands of dog training books out there, it's rare finding one that has something new to say or presents the science of positive training in a unique and meaningful way. Grisha's new book, the Ahimsa Dog Training Manual, does just that. Clear, concise, informative and extremely user-friendly, this book deserves a prominent place on every trainer's bookshelf."
-Paul Owens
Best-selling author of "The Dog Whisperer; A Compassionate, Nonviolent Approach to Dog Training" (Adams Media, 1999) and "The Puppy Whisperer A Compassionate, Nonviolent Guide to Early Training and Care" (Adams Media, 2007)
*****
"This is it! This is the easy-to-read, concise handbook that every responsible dog owner will want to read. This manual spells out practical, step-by-step training solutions while educating the reader on the science behind the theory. Grisha is the leading authority on Behavior Adjustment Training, and shares her unique method of bringing about change in a positive, force-free, and fear-free environment. This book also shows us a way to teach loose-leash walking that is free from frustration and maps a clear strategy for us to follow.
-Kyra Sundance
Renowned Stunt Dog Performer and author of best seller "101 Dog Tricks"
*****
"When Fido arrives at the intersection of Good Dog Street and Bad Dog Alley, which way will he go?" asks Grisha Stewart in her book, The Official Ahimsa Dog Training Manual: A Practical, Force-Free Guide to Problem Solving and Manners. Grisha's book can help you manage Fido's environment and train him to make good choices. She offers a variety of force-free ways to train common behaviors, and her writing is always engaging and as friendly as her methods. Your dog will definitely enjoy your training sessions based on this book."
*****
-Teoti Anderson, CPDT-KA, KPA-CTP,
Pawsitive Results
, LLC, Lexington, SC
APDT Past President and of "Your Outta Control Puppy," "Super Simple Guide to Housetraining," "Quick & Easy Crate Training," "Puppy Care and Training" and A"nimal Planet Dogs 101 Dog Training"
---
We sell the digital download version of this eBook.
Where to Buy the Other Versions
eBook in Other Languages
Paperback
Wholesale is available via NACSCORP and Ingram
Common mispellings: ahisma, ahinsa, ashima
If you have purchased this eBook, please log in with the user info that you created.