If you have purchased this eBook, please log in with the GrishaStewart.com user info that you created.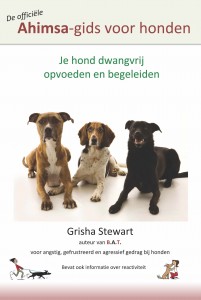 Grisha Stewart is de grondlegger van Ahimsa Dog Training in Seattle. Ze werkt met een team van meer dan tien mensen en haar hondenschool heeft vele prijzen gewonnen, waaronder Beste van Seattle en Beste van het westelijk deel van de staat Washington. Grisha is wiskundige van origine en ze is door haar passie voor honden uitgegroeid tot internationaal bekend instructeur en veelgevraagd spreker.
Save on your ebook by getting a Building Blocks membership at the same time. Members get discounts here in the Campus Store, plus unlimited access to tons of video lessons.
---
Purchase: eBook: Ahimsa-gids (PDF)
---
---
* Student Members get access to tons of how-to videos, discounts in our Campus Store, and access to other resources in our community. Does not automatically renew.
** Pro Members get all of the Student Member benefits, plus bigger discounts, Animal World Superstars interviews, and more features for dog trainers. Hobby trainers are welcome - you need not be a working professional. Does not automatically renew.
Click here to compare membership levels.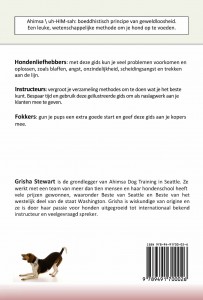 Current Table of Contents (subject to change):
INLEIDING
COMMUNICATIE & LEREN IS TWEERICHTINGSVERKEER

DE COMMUNICATIE VAN JE HOND BEGRIJPEN
LEERTHEORIE

Vier types gevolgen van gedrag
Richt je op leuke dingen
Smoren met liefde; over beloningen

HONDEN LERENVAN HUN ERVARINGEN: SOCIALISATIE VAN PUPS

CLICKERTRAINING WERKT

WAT IS EEN CLICKER?
WAAROM WERKT EEN CLICKER?

PROBLEEMGEDRAG OPLOSSEN

OPSPRINGEN EN ANDER ONBEWUST AANGELEERD GEDRAG
FUNCTIONELE BELONINGEN
ZINDELIJK MAKEN
BIJTEN & KAUWEN
VIJFTIEN TIPS OM BLAFFEN TIJDENS DE LES TE LATEN STOPPEN
ANGST, FRUSTRATIE EN AGRESSIE

Contraconditionering en systematische desensibilisatie
BAT

BAT-LIJNTECHNIEK VOOR ALLE HONDEN
LAAT ME NIET ALLEEN! HOE VOORKOM JE VERLATINGSANGST
DIE IS VAN MIJ! HOE VOORKOM EN BEHANDEL JE BEZITSAGRESSIE

GOEDE GEWOONTES ZIJN MOEILIJK AF TE LEREN

BETROUWBAAR GEDRAG AANLEREN, HET TRAININGSPROCES
KEUZEPUNTEN; ZORG DAT JE HOND SUCCES HEEFT
EEN CUE AAN GEDRAG KOPPELEN
NAAMSPEL
KIJK
ROEPEN; KOMEN OP VERZOEK

Wat moet je vermijden als je Hier oefent
Algemene tips voor Hier
Feestje; de noodroep
Oefenen, oefenen, oefenen
Geleidelijk moeilijker maken
Snoep zoeken; een leuke manier om spelenderwijs te oefenen
Meer spelletjes

EEN CUE OM TE ONTSPANNEN
ZIT
AF
VRIJ GEVEN; ZIJN WE AL KLAAR?
BLIJF
WACHT
TOUCH; NEUS- HANDTARGET
NETJES AAN DE LIJN LOPEN

Klikken voor aandacht – klikken voor positie
Wenden en volgen
Lopen met aandacht (met Touch erbij is het volgen)
Boom spelen of Achteruitlopen
Snelheidstraining
Strafmeters
Silky leash-techniek

LAAT
GEEF OF LOS
REGELS VOOR TREKSPELLETJES
101 DINGEN OM MET EEN DOOS TE DOEN
OP JE PLAATS – IN JE MAND
BENCHTRAINING
VEEL SUCCES EN GA ZO DOOR

BRONNEN VOOR NOG MEER HULP
OVER DE AUTEUR
---
Aanbevelingen
Of het nu over pups opvoeden of over leertheorieën gaat, Grisha heeft gedaan waar ze het best in is: ingewikkelde onderwerpen op een begrijpelijke manier uitleggen. Dit boek vormt een prima basis voor hondenbezitters om hun hond goede hondenmanieren te leren en vaak voorkomende problemen aan te pakken. Het bevat instructies om gewenst gedrag aan te leren, maar daarnaast behandelt Grisha ook angstig en reactief gedrag; ze biedt hondenbezit-ters de mogelijkheid om vaardigheden te leren waarmee ze een goede basis kunnen leggen, met als resultaat een hond die zich gelukkiger en ontspannener voelt. Ten slotte is dit een prima gids om mee te geven aan mensen die een herplaatshond in huis nemen, en instructeurs kunnen hem aan hun cliën-ten geven; dit alles met het doel honden en mensen te helpen om vreed-zaam en in harmonie met elkaar samen te leven. De Ahimsa-gids voor honden is een must voor iedereen die beroepsmatig of privé met honden omgaat.
- Nan Arthur, auteur van Chill Out Fido! How to Calm Your Dog.
Tussen de duizenden boeken over hondengedrag en -opvoeding is het lastig er een te vinden waarin daadwerkelijk iets nieuws wordt ge-meld of een waarin de wetenschappelijke kennis met betrekking tot posi-tieve training op een goede manier wordt uitgelegd. Grisha doet dat wel in haar boekje, de Ahimsa-gids voor honden. Het boekje is duidelijk, beknopt, informatief en zeer gebruiksvriendelijk, en verdient een promi-nente plaats in de boekenkast van iedere instructeur.
- Paul Owens, auteur van de bestsellers The Dog Whisperer; A Compas-sionate, Nonviolent Approach to Dog Training en The Puppy Whisperer: A Compassionate, Nonviolent Guide to Early Training and Care.
Dit is het: een leesbaar, beknopt handboek dat iedere verstandige hondenbezitter zal willen lezen. Deze gids beschrijft praktische, stap-voor-stap-oplossingen en de lezer krijgt daarnaast ook inzicht in de we-tenschap achter de theorie. Grisha is dé autoriteit op het gebied van BAT en ze deelt haar unieke methode met anderen om een verandering in de omgang met honden te bewerkstelligen en een positieve omgeving voor ze te creëren waarin macht en angst geen rol spelen. Ze laat ons aan de hand van duidelijke instructies en tekeningen een nieuwe manier zien om onze honden te leren netjes aan de lijn te lopen; zonder frustraties. De hondenwereld is Grisha dankbaar dat ze ondanks haar drukke werk-zaamheden de tijd heeft genomen deze fantastische gids voor ons te schrijven.
- Kyra Sundance, beroemd om haar werk met stunthonden en auteur van 101 Dog Tricks.
'Als Fido bij de kruising tussen de weg naar Brave Hond en de weg naar Stoute Hond aankomt, welke richting kiest hij dan?' vraagt Grisha Stewart in haar boek, De officiële Ahimsa-gids voor honden. Grisha's boek kan je helpen Fido's omgeving te managen en hem te leren de juis-te keuzes te maken. Ze reikt verschillende manieren aan om je hond zonder dwang gewenst gedrag te leren, en dat doet ze net zo innemend en vriendelijk als haar methodes zijn. Als je dit boek als leidraad neemt, zal je hond veel meer plezier aan je trainingssessies beleven.
- Teoti Anderson, auteur van Puppy Care and Training en Your Outta Control Puppy: How to Turn Your Precocious Pup Into a Perfect Pet en ex-voorzitter van de APDT (Association of Pet Dog Trainers).
Geweldig boek voor pupkopers. Het biedt de basis voor alles wat een hond moet leren, in begrijpelijke bewoordingen. Fokkers zouden het in hun puppenpakket moeten stoppen. Kan ik een hele partij bestellen?
- Michel Berner, Viszlafokker
---

Note: I sell only the digital download version of this eBook. You can get the paperback edition from the publisher, Plasman Vertalingen / Uitgeverij