If you have purchased this eBook, please log in with the user info that you created.
Book Description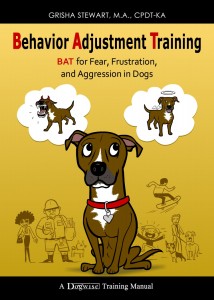 Note: This book is the first BAT book, which is about BAT 1.0. This purchase is only for the 1st edition, NOT the new BAT 2.0 book.
Get the new BAT 2.0 book:
The first BAT book is for dog trainers' historical reference. The details of BAT are no longer current. I do not recommend getting this book before BAT 2.0. The content has been replaced.
To learn about BAT 2.0, please check out the BAT 2.0 Book, Feature Films on BAT, online courses, or attend a seminar.
************
Get the 1st edition of the BAT book instantly as an eBook (choose the format of EPUB, MOBI, or PDF, whichever works with your reader program). Computers can read PDFs, MOBI works for Kindle. You can also download all three file formats in a ZIP file (significantly larger).
Behavior Adjustment Training is a low-stress way to help dogs gain confidence and social skills. The BAT book is written so that non-trainers with reactive dogs can easily read through it to help their dogs, but it also has a technical side, making it very useful for professionals. The book has "Notes for Pros" throughout and special technical chapters for trainers and behaviorists.
Chapters:
BAT Preview
BATboy: Peanut's Story
Quick Fixes: Safety and Management Essentials
A Functional Approach: Functional Rewards and Replacement Behaviors
Functional Rewards and Replacement Behaviors for Reactive Dogs
BAT Set-Ups for Reactivity
BAT for Everyday Walks
BAT for Frustrated Greeters
Love Thy Neighbor: Fence Fighting
BAT for Puppy Socialization
For Professional Trainers and Behaviorists: Using BAT with Clients
Appendix 1: Clicker Training Foundations
Appendix 2: For Trainers and Behaviorists: Other Techniques That Use Functional Rewards
Appendix 3: For Trainers and Behaviorists: Geek Speak on Quadrants and Other Questions
Appendix 4: In Their Own Words: Trainers and Clients Experiences with BAT
Please note: eBooks are for use on your devices only. It is illegal (and just mean to authors and publishers) to share or sell the files with others.
Purchase: eBook: BAT 1.0
---
---
Even if you have already seen the DVDs, you'll find this book helpful. The BAT book is a thorough resource on dog reactivity for regular pet lovers as well as professional dog trainers and behaviorists. It makes a great resource for students in Growly Dog classes, too.
---