Behavior Adjustment Training (BAT) helps dogs gain confidence and social skills by arranging scenarios that allow a dog to explore and learn.
If you have already purchased this video, please log in with the user info you created.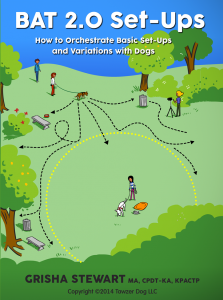 Video #5 in the BAT 2.0 Empowered Animals Series (Buy the set)
Presented by: Grisha Stewart MA, CPDT-KA, KPACTP
Instant streaming on your computer or mobile device (not a download - physical DVDs sold separately)
Watch as many times as you want!
Run time: 1 hr 19 mins
Produced by TawzerDog in 2014 for home viewers (not just a filmed seminar)
Includes a PDF with slides to go along with the video
Originally developed in 2009, BAT 2.0 is the newly updated version that is simpler, faster, and easier for dogs and people to do. BAT is effective for many kinds of reactivity, from fear to frustration to full-on aggression.
This video has several live demonstrations and explanations of BAT 2.0. Whether you are familiar with BAT or not, this video will help you understand how to put this effective tool to work. This is a short introduction to the technique, with variations. It should be enough for professionals to start implementing BAT.
If you are not a dog trainer or behaviorist, you will still find this helpful, but Grisha recommends working with a Certified BAT Instructor (CBATI) or a trainer who is experienced with reactivity, and is familiar with this latest version of BAT.
Purchase: Feature Film - BAT 2.0 Set Ups
---