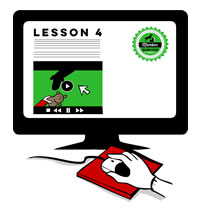 Courses are a series of animal behavior lessons created by Grisha Stewart. These are primarily for professional trainers, but are accessible to regular dog families, too.
Each course has a set of text/video lessons with homework to help you practice. These are self-study lessons done at your own time and pace, so it is sort of like a book with several videos included.
ABBA Members who are enrolled in the course get access to extra support within our community. You can ask questions in the ABBA Facebook group. Grisha and our teaching staff moderate  and facilitate discussions.
Lessons stay in your library for future reference, even if you cancel your Building Blocks membership
Free Sample of Building Blocks member videos
Free access to courses purchased on the other site [Access Request Info]
Member Discounts: 15% for Student Members, 20% for Professional Members

If you are a member, please log in before purchasing courses to get your discount.
We recommend working with a private trainer in person on some of these lessons, particularly the courses related to aggression or fear.
Please click on the titles below to learn more about each course.