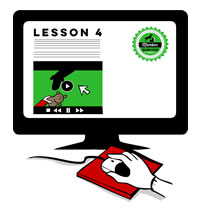 Courses are a series of animal behavior lessons, rather than just one-time events. These are primarily meant as continuing education for professional trainers, but many are accessible to regular dog families, too.
There are two types of courses: LIVE and Self-Study. Live courses have video interaction with the instructor. Self-study courses are done at your own time and pace. In both cases, you can be part of our membership group to ask questions of Grisha and/or other trainers who have taken the courses.
LIVE Courses:
Most of our live courses are case consultations, where you will get to see how to coach clients remotely. This is extremely helpful now, during the pandemic.
We have a variety of formats for our live courses, each suited to the material. Live courses are video-heavy, so you get to see dog training  and behavior modification in action. You can also ask the instructor questions and get them answered by video. Please contact us if you would like to see a specific instructor teach one of these courses.
On-Demand Self-Study Courses:
There are two types of self-study courses. Some courses are archived Live Courses, where you get all recordings and information from a live course. The rest were meant exclusively for self-study; they have a set of text/video lessons with homework to help you practice. These are basically like like a book with several videos included.
ABBA Members who are enrolled in the course get access to text support. You can ask questions in the ABBA Facebook group. Grisha and our teaching staff moderate and facilitate discussions.
Lessons stay in your library for future reference, even if you cancel your Animal Building Blocks Academy membership
Free Sample of Building Blocks member videos
Free access to courses purchased on the other site [Access Request Info]
Member Discounts: 15% for Student Members, 20% for Professional Members

If you are a member, please log in before purchasing courses to get your discount.
We recommend working with a private trainer in person on some of these lessons, particularly the courses related to aggression or fear.
Please click on the titles below to learn more about each course.
Self-Study Originals by Grisha Stewart:
Archived Live Courses: