23rd Annual APDT Education Conference
October 12, 2016 @ 1:30 pm

-

October 13, 2016 @ 3:30 pm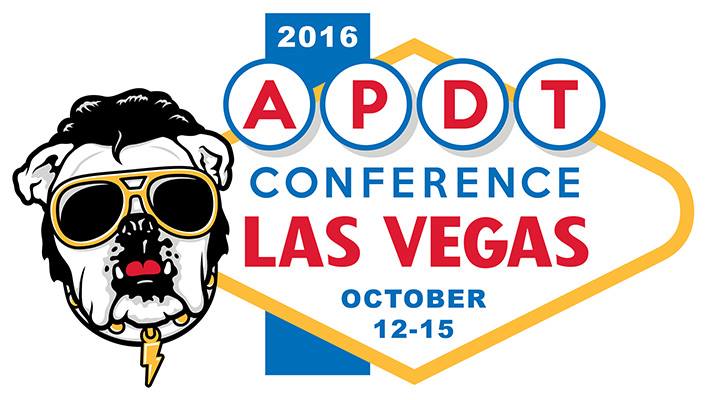 The Association of Professional Dog Trainers is celebrating 23 years as the premier conference for dog training and behavior consultation professionals.
Grisha Stewart will present twice at this international conference. The topics are below the video. Click here for the full schedule.
BAT 2.0 - Behavior Adjustment Training is Empowered Socialization for All Dogs
Date: Thursday, October 13, 2016
Time: 1:30 pm – 3:30 pm
Description: In BAT 2, Stewart provides the essential answer to this all-important question: Behavior is to have an effect, that is, to be effective. By safely allowing dogs more control over their own outcomes, especially in challenging conditions where fearful, frustrated and aggressive behavior is most likely, caregivers will be more successful shaping independent, competent, confident companions."
If you aren't yet familiar with BAT 2.0, this is your opportunity to get started. Through videos and role-playing demos, you'll get a solid overview of this technique and will hopefully be inspired to learn more. It is very different from the first version, so even if you already think you know BAT, take a look.
Why try BAT 2.0?
BAT empowers dogs to choose calm behavior over undesired reactivity. For example, instead of barking and lunging, BAT dogs can proactively choose to engage in a calm behavior, allowing them and their handler the opportunity to adjust to a "trigger" that was once causing fear, frustration or aggression.
BAT builds confidence and reduces arousal. An animal that has greater control of its environment (i.e. behavior is effective) is less likely to be anxious, fearful, or over-the-top excited, resulting in less reactivity as well as the development of calm and confident behavior.
BAT builds communication and trust. When the communication channel is clear and accurate, the relationship between the dog and caregiver may then develop greater trust. BAT teaches people how to better understand a dog's body language, most especially before, during, and after the dog calmly experiences a "trigger." The goal is to empower the animal and handler to remain active in the calm, stress-free behavior vs. becoming reactive in the undesirable behavior.
BAT reduces stress. In a properly executed BAT training session, the animal exhibits little to no distress during the BAT experience. The absence of distress is a critical component to BAT.
BAT has a fast learning curve.
BAT works with an animal's natural repertoire of desirable behaviors, and doesn't require much pre-training for the human to begin the rehabilitation process for both them and their dog.
Subject Areas: Learning (Canine), Canine Behavior
Learning Outcomes:
Become familiar with BAT 2.0 for socialization and reactivity rehabilitation.
Understand the reason various aspects of BAT 2.0 are used.
Learn about the BAT leash skills and how they are useful for all dogs.
Target Level of Knowledge (prerequisite):
Can read and interpret dog body language, especially distance-increasing behavior.
Familiar with clicker training
Familiar with the basic laws of animal learning
Empowered Puppy Training - Where to Focus and What to Save for Later
Date: Wednesday, October 12, 2016
Time: 1:30 pm – 3:30 pm
Description: Puppy classes can be very useful for dogs, but classes can be so much better. By looking at our priorities and focusing on the right set of skills, we can have an even more profound and beneficial impact on our students' lives. This seminar will explore the lessons and skills that should be in every puppy class, like the More Please Signal, as well as some common lessons that are learned in puppy class that are a waste of time or even detrimental to the puppies' wellbeing. The current puppy class model is a puppy-fied version of standard obedience classes, which isn't necessarily the best idea for dogs. Come prepared to put some heavy thought into the structure of puppy classes and how to teach them.
Subject Areas: Learning (Canine), Canine Behavior
Learning Outcomes
Learn a philosophy to prioritize puppy training and socialization skills.
Understand the More Please Signal and how to use it for cooperative care.
Start thinking about how puppy classes can be modified to better suit the way dogs learn social skills.
Target Level of Knowledge:
Seen and/or taught puppy training classes
Familiar with clicker training
Familiar with lure-reward, capturing, and shaping