ANIMAL WORLD SUPERSTARS: Joseph LeDoux, Ph.D. (Neuroscience)
November 24, 2015 @ 12:00 pm

-

12:45 pm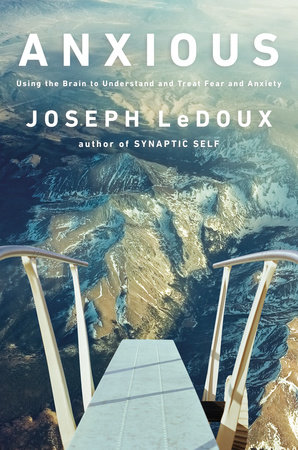 THIS EVENT IS OVER - Please click for the recording
Topics for questions: Neuroscience, memory reconsolidation, the emotional brain, how reconsolidation influences PTSD treatment. Also see research info below.
"I'm thrilled to have Dr. LeDoux on ABBA. Knowledge of the brain gives more tools to address fear and other emotional issues in our animals (and ourselves). The reconsolidation concept studied in Dr. LeDoux's lab just blows me away - to think that we can rewrite the emotional content of a memory. Even though he focuses on studying animals to help humans, books, Synaptic Self and the Emotional Brain book should be required reading for every animal trainer out there. It's only fair that studying animals actually benefits their species in the long run." - Grisha
How to Attend Online:
These live video interviews are always free for our Pro Members. They are not available for separate purchase, but we'd be happy to have you join us as a member. [Click here for Membership Info]. Sessions are recorded for later access and can be found under Pro Member Q&A Recordings.
To attend, just log in and go to the Animal World Superstars Pro Member Q&A page. You can post your questions in advance and we will save them up for the session. You can also post questions live.
Date: November 24, 2015, 12 noon - 12:45 pm PST
About Joseph LeDoux, Ph.D.
Joseph LeDoux is the Henry and Lucy Moses Professor of Science at New York University in the Center for Neural Science. He directs the Emotional Brain Institute of NYU and the Nathan Kline Institute. His work is focused on the brain mechanisms of memory and emotion and he is the author of The Emotional Brain and Synaptic Self. His new book, Anxious, will be out in July 2015. One of its goals is to try to clarify what we can and can't learn from animals about human feelings, especially fear and anxiety.
Dr. LeDoux has received a number of awards, including the Karl Spencer Lashley Award from the American Philosophical Society, the Fyssen International Prize in Cognitive Science, Jean Louis Signoret Prize of the IPSEN Foundation, the Santiago Grisolia Prize, the American Psychological Association Distinguished Scientific Contributions Award, the American Psychological Association Donald O. Hebb Award.
Dr. LeDoux is a Fellow of the American Academy of Arts and Sciences, the New York Academy of Sciences, and the American Association for the Advancement of Science, and a member of the National Academy of Sciences. He is also the lead singer and songwriter in the rock band, The Amygdaloids. They will have a new CD, Anxious, which will release at the same time as his new book of the same name (in July). The CD will songs about anxiety, fear, and other aspects of mind and brain.
Ongoing work in his lab explores the following questions:
Is the same basic system that underlies the conditioning and expression reactive responses, such as freezing behavior, also involved in controlling instrumental responses, such as escape and avoidance, in dangerous situations?
To what extent can threat memories be changed through experience, and can these approaches be used to help treat people with fear and anxiety disorders?
What are the mechanisms through which conscious emotional feelings, as opposed to behavioral or autonomic responses, come about?
He writes, "A key issue is the role of 'fear' in so-called fear conditioning. Fear, as commonly used, refers to the subjective feeling we experience when in danger. The extent to which animals, aside from humans, have such experiences is not easily determined. We should, therefore, not search for fear or other human emotions in the brains of other animals, but instead should ask whether processes that are present in the brains of other animals are also present in humans. This will help avoid conflation of fearful feelings with more basic survival mechanisms that are widely shared across species."
[Animal World Superstars Info]   [Membership Information]
Honors and Awards
Honors and Merit Award, NIMH (1989)
Awards: Research Scientist Development Award (KO2), NIMH (1994)
Jean Louis Signoret Prize, Foundation IPSEN, Paris (1999)
Margaret and Louis Sokol Faculty Award in the Sciences, NYU (1998)
Research Scientist Development Award (KO2), NIMH (1999)
Merit Award, NIMH (1999)
Hoch Award, American Psychopathological Association (2001) Research Scientist Award (K05), NIMH (2003)
Fellow of the New York Academy of Sciences (2005)
Fyssen Foundation 2005 International Prize (2006)
Fellow of the American Academy of Arts and Sciences (2006)
D. O. Hebb Award, American Psychological Association (2008)
Santiago Grisolia Prize, Valencia Spain (2009)
Distinguished Scientific Contributions to Psychology, American Psychological Association (2010)