Webinar: Evolution of BAT 2.0 – Behavior Adjustment Training
December 12, 2019 @ 10:00 am

-

11:30 am

$29
WHY TAKE THIS ONLINE SEMINAR?
The BAT technique for dog aggression, fear, and frustration has changed quite a bit in the decade since I developed it. For 90 minutes, I'll take you on a tour of the development of BAT, from the initial inspirations of BAT 1.0 in 2009 up through the present moment, including the moments I cringe about now and some new ways to look at BAT.
Dr. Susan Friedman sums up BAT well in this review of Grisha Stewart's BAT 2.0 book:
"When I ask behavior professionals, 'What are your eyes for?' they reply enthusiastically, 'To see!' But when I ask, 'What is your behavior for?' conference rooms fall silent. In BAT 2, Stewart provides the essential answer to this all-important question: Behavior is to have an effect, that is, to be effective. By safely allowing dogs more control over their own outcomes, especially in challenging conditions where fearful, frustrated and aggressive behavior is most likely, caregivers will be more successful shaping independent, competent, confident companions." 
This session begins with a brief overview of BAT 2.0 for those who are not yet familiar with the technique. In the second part of the session, Grisha will go through older video footage and explore the inspirations behind the many improvements she's made to the BAT technique along the way.
If you have already purchased this presentation, please log in with the user info you created and refresh this page.
Why try BAT 2.0?
BAT creates scenarios that increase learner control, build confidence, and reduce arousal. An animal that has greater control of its environment (i.e. behavior is effective) is less likely to show "reactivity" – extreme distance-increasing or distance-decreasing behavior.
BAT builds communication and trust. When the communication channel is clear and accurate, the relationship between the dog and caregiver may then develop greater trust. BAT teaches people how to better understand a dog's body language, most especially before, during, and after the dog calmly experiences a trigger.  The goal is to empower the animal and handler to remain active in the calm, stress-free behavior vs. becoming reactive in the undesirable behavior.
BAT reduces stress. In a properly executed BAT training session, the animal exhibits little to no distress during the BAT experience. The absence of distress is a critical component to BAT and is an improvement over other techniques.
BAT has a fast learning curve. BAT works with an animal's natural repertoire of desirable behaviors, and doesn't require much pre-training for the human to begin the rehabilitation process for both them and their dog.
ABOUT GRISHA: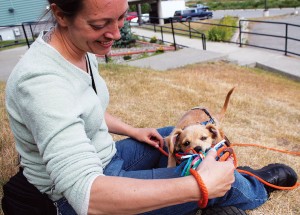 Grisha Stewart is an author, international speaker, and dog trainer who specializes in dog reactivity. She founded Empowered Animals and the online Animal Building Blocks Academy in Alaska and Ahimsa Dog Training in Seattle, which has earned many awards, including Best of Western Washington.
"Ahimsa" is a Buddhist doctrine of nonviolence to all living things, which reflects Grisha's focus on force-free methods to promote the well-being of dogs and their humans.
More info about Grisha: http://grishastewart.com/grisha
About This Event:
All online events on this site are listed in the Pacific time zone, which is PDT in the summer and PST the rest of the year (enter Seattle in the Time Zone Converter)
Attend right here on this page by registering below. Cost for this 90-minute seminar is $29.
Stream on your computer or mobile device (not a download or a physical DVD)
Webinar will be recorded for you to view later at your convenience.
Run time: 1 hr 30 mins