Switzerland: Einführung zum BAT (Englisch/Französisch)
September 27, 2015 @ 10:00 am

-

6:00 pm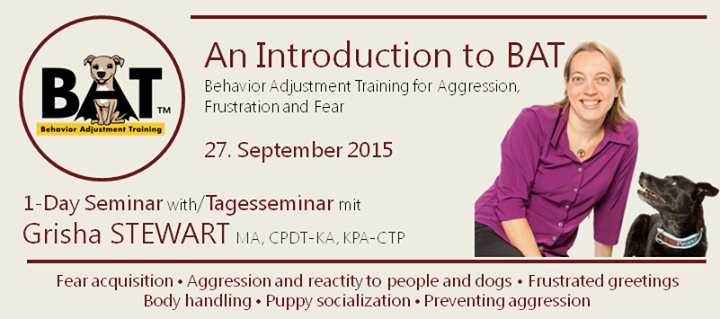 Einführung zum BAT (Englisch/Französisch)
Zum ersten mal kommt Grisha Stewart von den USA in die Schweiz um uns die BAT (Behavior Adjustment Training) Methode vorzustellen. Diese Trainingsmethode zur Verhaltenveränderung bei Agression-, Frustration- und Angstverhalten wurde von Grisha entwickelt und verbreitet. Hier ist für Diejenigen von Euch die Englisch (oder Französisch) sprechen, eine Supergelegenheit, das BAT zu entdecken.
Durch seine einfache Anwendung und seine Effizienz bei der Verhaltensänderung von Hunden mit Reaktivitätsprobleme, hat sich diese wesenschonende Methode rasch bei Trainers weltweit verbreitet, und dabei Hunde mit Aggressions- Frustrations- oder Angstverhaltensprobleme geholfen, ihr Sicherheitsgefühl und ihre soziale Kompetenzen zu erhöhen.
Dieses Tagesseminar wird intensiv und spannend, mit vielen Videos und Fallstudien und mit Praktikum der Leinentechniken durch Rollenspiel, so dass ihr mit vielen Tools nach Hause fahren könnt!
Don't miss this unique opportunity as Grisha Stewart stops in Switzerland for the first time to present this 1-day seminar on BAT (Behavior Adjustment training). Developed as a way to help dogs gain confidence and social skills, Behavior Adjustment Training (BAT) has quickly spread throughout the world because of its elegant simplicity and effectiveness in rehabilitating reactivity.
This 1-day seminar will show many video clips with case studies using various BAT set-ups, as well as videos of how to deal with problems that crop up, and how to use BAT with other behavior modification techniques. You'll also get some hands-on practice via roleplaying with leash handling techniques that are essential for BAT.