Eugene Seminar: "How to Human: Life Skills for Your End of the Leash"
September 27, 2019 @ 6:00 pm

-

9:00 pm

$39
About the How to Human local seminar:
Do you want to be in love with your life?
Do you do any of these things that get in the way of that?
Waste time doing things that feel useless or uncomfortable?
Wish your clients or family would listen to you or respect your time?
Feel stressed or burned out?
Feel pressured to be "happy" or get upset when others aren't "positive"?
Need more energy or time in the day?
Have habits you want to quit or build?
Wonder whether there's more to life than simply surviving?
Want authentic connections?
Need a tribe you can count on?
In the "How to Human" local seminar, I teach practical, transformational skills to help dog trainers, shelter staff, and all other animal lovers live more wholehearted lives.
Why animal lovers? As a professional dog trainer, animal lovers are my people! The activities, analogies, and information I present in this seminar fit nicely with what animal lovers already know, making them easy to apply. Skills covered include how to change habits, nonviolent communication, mindfulness, and other strategies to find joy with integrity.
***
If you're eager for more after the seminar, or want to join a community of folks working on these skills, you'll get a code to register for my online How to Human course for 50% off!
ABOUT GRISHA: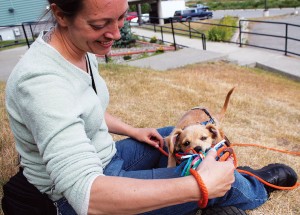 My full fancy name is Grisha Stewart, MA, CPDT-KA, KPACTP.
I have those letters and such after my name because I've studied as a mathematician and a dog trainer. I prefer to just be called Grisha. Those accomplishments are not who I am, they just reflect some of the schooling I've had. I've also taken graduate work in psychology, but stopped before getting the second master's degree because the BAT book took off and I chose to travel and teach.
My passion is wellness for both dogs and people.
For real. I love connecting with people. I didn't always enjoy deep connection, not until I learned to have better boundaries. More on that in the course!
I love my life. I think my biggest accomplishment so far is to adapt to constant change with a grounded, joyous, compassionate, grateful outlook. It hasn't come easy, and of course I'm still on my growth path, but I truly enjoy my life, tears and all, and that's pretty amazing to me.
There are so many useful practices and ideas that have brought me joy and equanimity. I want to help share what I've learned with you. I'm an avid reader and lifelong learner, so my "How to Human" sessions are chock-full of resources to dive more deeply into the waters of conscious living.
More info about me: http://grishastewart.com/grisha
Details for this location:
See below for location, date, and time. Click the venue name for travel details.
Humans only, please. No dogs are allowed in the venue. Please let us know if you are bringing a service dog, so we can plan accordingly.
Registration is per person. All people attending must register individually. We have discounts available for groups of 5 or more. Please contact us for details.
We will have a list, there are no tickets. If for some reason we don't have you on the list, you can log in with your mobile device and show your name on this page as proof of purchase. Alternatively if you get an email receipt (sometimes those get lost, especially in gmail), you can show that.
No CEUs available for this seminar.
Updates on the seminar will be on this page. Please bookmark this page. You will also see a link to this page under My Account when you log in.
If lack of funds would make you unable to attend this live seminar, please contact us for a discounted rate on the online How to Human course.
Please register with the form below:
If you are already a member or have made a purchase at GrishaStewart.com before, please log in with the user info you created.
Bonus! Register for this seminar today and you'll also get a FREE MONTH of student membership in Grisha's online Animal Building Blocks Academy, no strings attached (new members only). Membership expires automatically after a month, with no recurring charges unless you login in and sign up for renewal.
[/s2If]