Portland Seminar: "Don't Just Grab the Pussycat: the Power of CONSENT in All Species"
December 11, 2018 @ 6:30 pm

-

8:30 pm

$29
About the Consent seminar:
Did you know that your dog might not actually like being picked up? Or that "not running away" is not the same as your cat consenting to be petted? Did you know that putting your hand out into a dog's space is actually NOT a polite thing to do in the dog world? Or that most of the photos of 'happy dogs' getting hugs on Facebook are probably not actually happy?
Consent before touching (or lack thereof) was a hot topic in the 2016 US election and also before that with some well-publicized crimes. It has continued to stay in the consciousness of the Western world with the #metoo movement, supreme court confirmations, and various other events. One of the interesting and tragic things about consent is that it is applied differently to different genders, species, and cultural groups.
ADULT CONTENT WARNING: This seminar is not just about dog training, but about personal contact between humans. I recommend only adults register, as there will be some discussion of consent and safe words between humans for intimate contact (including sex). This is not your usual dog training seminar.
Topics:
This seminar explores boundaries and consent:
Boundary setting in humans and non-human animals
How consent can only be given in the moment. Authentic consent cannot be given after the fact or in advance.
Effects of contact without consent
Benefits of asking for consent before physical contact
How to ask for and receive consent from non-human animals
Comparison of different animal training techniques and how they relate to consent
How helping your dog communicate consent and cut-off signals can improve your dog's behavior and your relationship with your dog
How clear consent of your own boundaries can improve your relationship and sex life with your human partner(s)
How to defend your animal's right to give/deny consent
How discussing consent in contact with animals can educate humans about boundaries with one another
Presentation is live in person, with video, powerpoint, and recorded videos. You will get access to the recording of the webinar version, so don't worry if you register, but then can't make the date.
ABOUT GRISHA: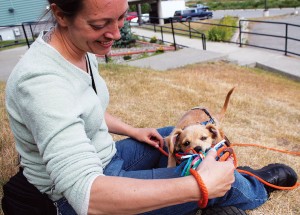 Grisha Stewart is an author, international speaker, and dog trainer who specializes in dog reactivity. She founded Empowered Animals and the online Animal Building Blocks Academy in Alaska and Ahimsa Dog Training in Seattle, which has earned many awards, including Best of Western Washington.
"Ahimsa" is a Buddhist doctrine of nonviolence to all living things, which reflects Grisha's focus on force-free methods to promote the well-being of dogs and their humans.
More info about Grisha: http://grishastewart.com/grisha
Details for this location:
See below for location, date, and time. Click the venue name for travel details.
Humans only, please. No dogs are allowed in the venue. Please let us know if you are bringing a service dog, so we can plan accordingly.
Registration is per person. All people attending must register individually. We have discounts available for groups of 5 or more. Please contact us for details.
We will have a list, there are no tickets. If for some reason we don't have you on the list, you can log in with your mobile device and show your name on this page as proof of purchase. Alternatively if you get an email receipt (sometimes those get lost, especially in gmail), you can show that.
Continuing education units for professional dog trainers: 2 CEUS for CPDT, 1 CEU for CBCC, 2 CEUs for IAABC, and you should be able to use the IAABC certificate for KPA. If you don't know what this means then don't worry, it doesn't apply to you. 🙂 For CPDT and CBCC, please bring your CCPDT number with you to the seminar. We recommend just adding it to your own contact info in your phone so you always have it!
Updates on the seminar will be on this page. Please bookmark this page. You will also see a link to this page under My Account when you log in.
If lack of funds would make you unable to attend this live seminar, please contact us for a discounted rate on the webinar recording.
Please register with the form below:
If you are already a member or have made a purchase at GrishaStewart.com before, please log in with the user info you created.
Bonus! Register for this seminar today and you'll also get a FREE MONTH of student membership in Grisha's online Animal Building Blocks Academy, no strings attached (new members only). Membership expires automatically after a month, with no recurring charges unless you login in and sign up for renewal.
[/s2If]
Related Events