Online Seminar: "BAT Teamwork" Building Cooperation, Confidence, & Social Skills
April 20, 2016 @ 1:00 pm

-

3:30 pm

$59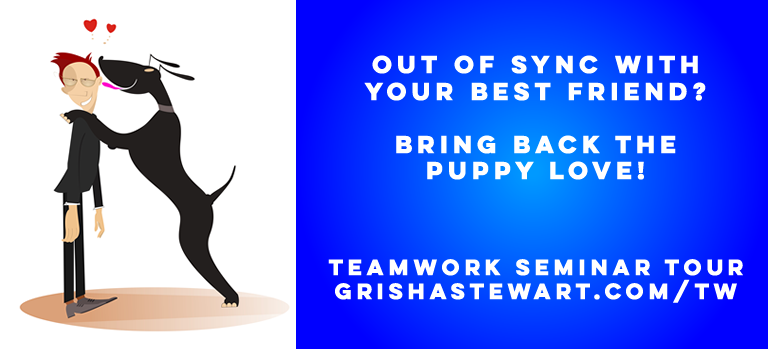 About Teamwork seminars:
Looking for a great way to jumpstart your dog training and have a stronger relationship with your dog? Or maybe you're a professional trainer looking for better ways to train or explain?
Professional dog trainer and author Grisha Stewart has a unique perspective on life with dogs. Her training style focuses on using clear communication and empowerment to teach behavior that improves the quality of life for everyone in the family, including the dog(s).
Grisha will be teaching several 2-hour Teamwork seminars in 2016. She toured the northeast US) in February/March and will be in the UK in May, southern California in July, and the western US in September.
The event on this page is an ONLINE live video version of those seminars.  Grisha will broadcast from her office in Alaska with recorded videos, live video of Grisha, and powerpoint slides. It will also be recorded for your future reference, but you can only register for the seminar/recording BEFORE it happens.
What will I learn?
Click for more information about Grisha's Teamwork seminars, including what you'll learn, and why you should attend.
Details for the online webinar:
To view the webinar, just come back to this page on the date and time listed and log in. It will appear right on this page.
Prices are in US dollars. The purchase is made on a US website, so your bank may charge a fee.
Time listed below is in Pacific Daylight Time (PDT - Seattle timezone). Usually the time listed on the live video adjusts to your time zone (this box appears when you are registered and logged in).
You can view the live video and recording from just about any online device - phone, computer, tablet, etc.
Updates on the webinar will be on this page. Please bookmark this page. You will also see a link to this page under My Account when you log in.
Pro Members get CPDT CEUs - no need to email us, just go to the recorded version and watch through to the end, then click the link that appears in the window. (Should be 2.5 CEUs).