Teamwork Seattle Seminar: Cooperation with Your Dog On and Off Leash
August 17, 2018 @ 7:00 pm

-

9:00 pm

$39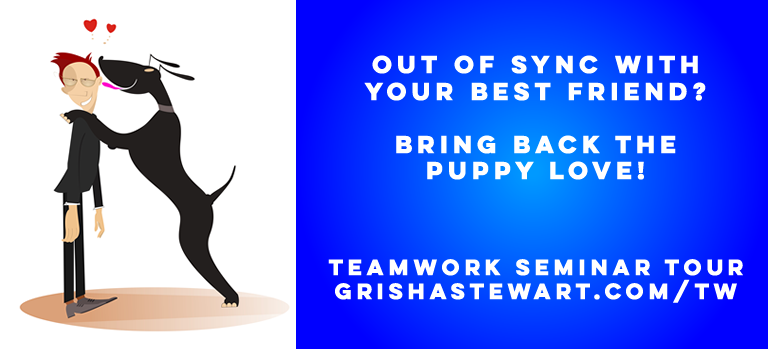 About Teamwork seminars:
Looking for a great way to jumpstart your dog training and have a stronger relationship with your dog? Or maybe you're a professional trainer looking for better ways to train or explain?
Professional dog trainer and author Grisha Stewart has a unique perspective on life with dogs. Her training style focuses on using clear communication and empowerment to teach behavior that improves the quality of life for everyone in the family, including the dog(s). Grisha founded and ran Ahimsa Dog Training in Seattle for a dozen years before she sold it and moved to Oregon, where she lives now.
NOTE: Grisha will also be teaching a weekend BAT seminar on dog aggression, frustration, and fear, August 18-19. Details soon, but save the date!
What Will I Learn?
These 2-hour seminars are packed with information on how to solve behavior problems and build a reliable relationship with your dog.
This seminar has been presented to dog lovers and professionals around the world. It explores some fundamental techniques and ideas that will put you in a better position to train at home or in group classes with a local dog trainer, and includes some info on Grisha's BAT 2.0 technique for dog reactivity and socialization. Professional dog trainers are also encouraged to attend because these are non-standard ideas that may change the way you teach.
How unmet needs lead to problems
Solving behavior problems with empowerment
How to read body language and ask your dog questions
How to encourage cooperation, for example, with:

Coming when called
Polite walking (including a preview of some BAT leash skills)
Vet care & grooming
Grisha's entertaining, active presentation includes powerpoint, videos, and (in venues that allow a dog on stage) live demonstrations. Her books and DVDs will also be available, including the new BAT 2.0 book.
Details for this location:
See below for location, date, and time. Click the venue name for travel details.
Well-socialized dogs who are comfortable being at a seminar may attend, although Grisha will not have exercises for the dogs and there will be some training exercises to do without your dog.  The floor is slippery linoleum. Bring a crate, water bowl, treats entertainment, etc. for your dog and be prepared to take your dog home if s/he is not comfortable. Dogs will not be allowed to stay in cars.
Registration is per person. All people attending must register individually. We will have a list, there are no tickets. If for some reason we don't have you on the list, you can log in with your mobile device and show your name on this page as proof of purchase. Alternatively if you get an email receipt (sometimes those get lost, especially in gmail), you can show that.
Continuing education units for professional dog trainers: 2 CEUS for CPDT, 1 CEU for CBCC, 2 CEUs for IAABC, and you should be able to use the IAABC certificate for KPA. If you don't know what this means then don't worry, it doesn't apply to you. 🙂 For CPDT and CBCC, please bring your CCPDT number with you to the seminar. We recommend just adding it to your own contact info in your phone so you always have it!
Updates on the seminar will be on this page. Please bookmark this page. You will also see a link to this page under My Account when you log in.
Related Events