ANIMAL WORLD SUPERSTARS: Dr. Helen Zulch
February 23, 2016 @ 12:00 pm

-

12:45 pm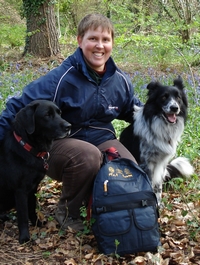 Topics for questions: 'Life skills' puppy socialization and training, cat behavior, scent detection, and medical issues that present as behavior problems. Also see the research info below.
"I listened to Helen Zulch speak several years ago in the UK. I was impressed with her research and happy with how well her approach matched my own philosophy of empowerment. Take her puppy work, for example. Many trainers focus on obedience, when people (and dogs) really need dogs to learn 'life skills.' Even if you are already training that way, you will probably take some great tips away from this session." - Grisha
How to Attend Online:
These live video interviews are always free for our Pro Members. They are not available for separate purchase, but we'd be happy to have you join us as a member. [Click here for Membership Info]. Sessions are recorded for later access and can be found under Pro Member Q&A Recordings.
You can post your questions in advance and we will save them up for the session. You will not be able to post questions live.
Date: February 23, 2016, 12 noon - 12:45 pm PST
Note: This is an exception to our usual rule of prioritizing questions asked during the session - Dr. Zulch will be answering questions posed in advance, so that she has an opportunity to research the answers. You have to appreciate her love of research!
About Helen Zulch, BVSc(Hons), DipECAWBM(Behavioural Medicine), MRCVS
Helen is a veterinary behaviorist who co-authored the fabulous Life Skills for Puppies book with Daniel Mills. The Life Skills program offers public puppy classes in Lincoln, UK as well as intense trainer education courses. She has worked in a number of areas of veterinary science and moved into the field of clinical animal behavior (consulting and teaching) in 1999.
She is also a Senior Lecturer at the University of Lincoln for the undergraduate programs and the Master of Science in Clinical Animal Behavior. Helen also spends time as a consultant at the University of Lincoln Animal Behavior Referral Clinic and writes a blog about cat behavior.
Her main interests and areas of research include the prevention of behavior problems through appropriate early life experiences, the application of scientific principles in animal training, the interaction between health and behavior, communication in animals and olfaction in dogs. She has owned and trained dogs all her adult life.
Helen has developed and refined the concepts and trainer course content over several years of teaching dog training classes, working with dogs and cats with behavior problems and lecturing to students at the University of Lincoln, alongside a busy schedule of seminars and talks at conferences and professional development courses for vets and dog training professionals.
Helen has had dogs all her adult life, and currently has a border collie and a labrador, who help her with her teaching and research interests.
[Animal World Superstars Info]   [Membership Information]
Research
[Animal World Superstars Info]   [Membership Information]