If you have already purchased this series, please log in with the user info you created.
The bestseller at Tawzer's annual sale! Get instant streaming access to this popular new video series for all dog lovers by Grisha Stewart. You'll come away with a whole new perspective on life with dogs.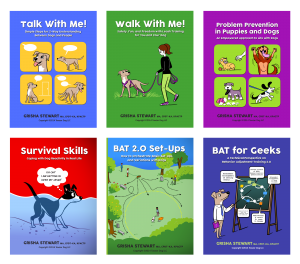 Videos 1-3 are especially helpful for all pet owners and 4 and 5 are great for preventing or rehabilitating aggression, frustration, or fear.
All six of these videos are useful for professional dog trainers.
All 6 Films in the BAT 2.0 Empowered Animals Series (Get one video free!)
Lifetime access, watch as many times as you want!
Presented by: Grisha Stewart MA, CPDT-KA, KPACTP
Instant streaming on your computer or mobile device (not a download - physical DVD box set sold separately)
Each video is about 1.5 hours
Produced by TawzerDog in 2014 for home viewers (not just a filmed seminar)
Each film includes a PDF with slides to go along with the video

Here's a preview of "Talk With Me!" - the first film in this series:
Click each title below for a description or to purchase individually.
Purchase: Feature Films - BAT Series
---