Online seminar recorded November 10, 2015 - Presented by: Grisha Stewart MA, CPDT-KA, KPACTP. Dog training practices and philosophies are always changing based on science and innovative techniques from trainers and behaviorists in the field. Change is hard, but if you have an idea of where you might be going, it's a little easier!
---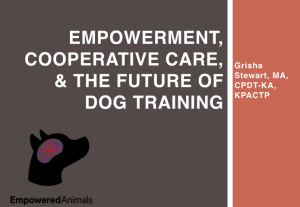 If you purchase this video below, just refresh the page and it will show up right here.
Use the form below to purchase the streaming recording, with a nice bonus: one FREE month of Student membership in ABBA, for extra support and a chance to ask questions. There are no strings attached. The membership will not renew automatically and you will keep access to this event recording indefinitely.
What was considered to be modern or 'balanced' 10 years ago has faded into 'old-fashioned' training as people discover even better ways to address problems and empower choices. It's not enough any more to train with a focus on reinforcement and avoid giving leash corrections. Don't get me wrong, that's a good start, but there's more.
In my travels around the world to teach seminars, I have seen a wide variety of perspectives on the role of the trainer, what dogs can and should learn, and how they should best learn those lessons. This 1.5 hour seminar shares my perspective on where I see animal training going and what benefits that can have for the dogs and other animals in our care.
About this Online Seminar:
Presented by: Grisha Stewart MA, CPDT-KA, KPACTP on November 10, 2015
Streaming on your computer or mobile device (not a download or a physical DVD)
Watch the recording many times as you want
Run time: 1 hr 10 mins
Includes a PDF with slides to go along with the presentation
Pro Members can earn CPDT CEUs (membership must be active on our next reporting date)
If you are already a member or have made a purchase at ABBA before, please log in with the user info you created.
Other Useful Links related to questions or topics from this online seminar:
If you like this seminar, please help me out by sharing this page on Facebook!