NEXT SESSION Start Date: Ongoing - Self-Paced to start any time.
This online personal growth course is packed full of skills to help you find more joy and balance. It's meant to take 6-12 weeks.
Are you in love with your life?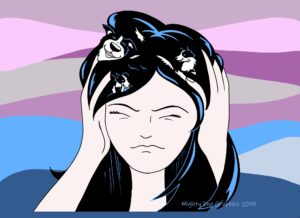 Or do you have border collies running around in your head, instead?
Do you:
Waste time doing things that feel useless or uncomfortable?
Wish your clients or family would listen to you or respect your time?
Feel stressed or burned out?
Feel pressured to be "happy" or get upset when others aren't "positive"?
Need more energy or time in the day?
Have habits you want to quit or build?
Wonder whether there's more to life than simply surviving?
Want authentic connections?
Need a group of friends you can count on?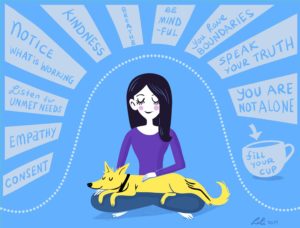 The "How to Human" online course helps dog trainers, shelter staff, and all other animal lovers live more wholehearted lives.
Why animal lovers? Because I am an animal behavior geek and animal lovers are my people! The activities, analogies, and information I present in this course fit nicely with what you already know, making them easy to apply.
NEXT START DATE: Ongoing, self-paced.
6-12 week course with an optional live component.
We have a special Facebook group just for this course, with a lot of support and bonus education.
Self-paced: You can start any time and do this course at your own pace! I also have taught this course live before, so there are recordings of those live videos in the course materials. Members from the previous classes are in the private Facebook group. Our community is growing and we look forward to meeting you.
This course explores the wellness resources I've found to be most personally helpful. I've gone into some detail on each of these and shared resources so you can dig deeper into the areas you need.
Practical, straightforward ways to balance your life
Simple activities to do alone or with animals
Ways to discover your needs and get them met
Communication techniques, including Nonviolent Communication
Mindfulness
Wholehearted living skills
Neuroscience
Boundary setting
Habits
Essentialism - targeting where to put your energy for maximum effect
Grief and change
Compassion - helping others without losing yourself
Format:
6 sections of lessons in the form of written text with supporting videos and references for further study.
A compassionate online community.
Bonus resources for continued learning.
Course materials stay in your account for later use.
---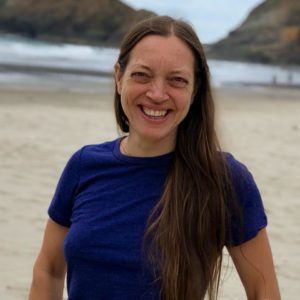 Hi, I'm Grisha Stewart, MA, CPDT-KA, KPACTP.
I have those letters and such after my name because I've studied as a mathematician and a dog trainer. I prefer to just be called Grisha.
Those accomplishments are not who I am, they just reflect some of the schooling I've had. I've also taken graduate work in psychology, but stopped before getting the second master's degree because the BAT book took off and I chose to travel and teach around the world.
My passion is wellness for both dogs and people.
For real. I love connecting with people. I didn't always enjoy deep connection, not until I learned to have better boundaries. More on that in the course!
I love my life. I think my biggest accomplishment so far is to adapt to constant change with a grounded, joyous, compassionate, grateful outlook. It hasn't come easy, and of course I'm still on my growth path, but I truly enjoy my life, tears and all, and that's pretty amazing to me.
There are so many useful practices and ideas that have brought me joy and equanimity. I want to help share what I've learned with you. I'm an avid reader and lifelong learner, so my "How to Human" course is chock-full of resources to dive more deeply into the waters of conscious living.
Here are the list of topics. Subject to change!
Section 1: Changing Habits Efficiently
Section 2: Feelings, Needs, Strategies, and Boundaries
Section 3: The Border Collie in Your Head
Section 4: Being Present
Section 5: Stillness and Unconditional Love
Section 6: Impermanence, Groundlessness, and Letting Be
---
Save on your course by getting a Building Blocks membership at the same time. Members get discounts here in the Campus Store, plus unlimited access to tons of video lessons.
---
Purchase: How to Human Online Course
---
---
* Student Members get access to tons of how-to videos, discounts in our Campus Store, and access to other resources in our community. Does not automatically renew.
** Pro Members get all of the Student Member benefits, plus bigger discounts, Animal World Superstars interviews, and more features for dog trainers. Hobby trainers are welcome - you need not be a working professional. Does not automatically renew.