Please log in as a Pro member to see the recording of Grisha's December, 2015 interview with Greg McKeown below. 
If you are not yet a member, we  hope you will join us for the live interviews and other great features of our school. Click here for membership info.
Don't miss our January interview with Emily Larlham (Kikopup on YouTube). January 26, 12 noon to 12:45 pm PST. We also have some great upcoming online seminars.
Topics for questions: How to stop being spread too thin, how to make a bigger impact, essentialism, efficiency, burnout, being too busy.
Questions from the interview:
What is the main take-away message from Essentialism?
How can the opportunities that come from success start eroding the foundation of what you do?
What are some of the benefits of essentialism and some of the problems we can avoid or get rid of with an essentialist approach?
What are some of the reasons people might want to say no to an opportunity or a responsibility, even if it sounds like something they should do?
What are some tips on how to politely say no to requests?
Essentialism isn't just better organization to get everything done. Can you talk more about that?
It's easy to fall off of the essentialist wagon. Does that happen to you and how do you get back on?
You've started a global experiment for Essentialism. I've joined in. I am worried I don't have the time, but then figured that's exactly why I should do it. Could you tell my listeners some more about the project?
What do you hope to accomplish from the Essentialism Live project?
One of the things that struck me from your book was the point that "priority"  means the one most important thing, and that priorities (plural) doesn't make sense. Could you go into that more?
Like TAGteach, this seems to be about finding the pivotal change so that everything else falls into place. [Click to view the AWS interview with Theresa McKeon about TAGteach.]
About Greg McKeown, MBA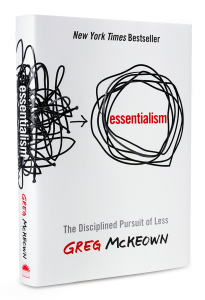 Greg McKeown has dedicated his career to discovering why some people break through to the next level—and others don't.
The definitive treatment of this issue is addressed in McKeown's latest project: the instant New York Times and Wall Street Journal bestseller, Essentialism: The Disciplined Pursuit of Less.  As well as frequently being the #1 Time Management book on Amazon, this book challenges core assumptions about achievement to get to the essence of what really drives success.
McKeown is the CEO of THIS Inc, a company whose mission is to assist people and companies to spend 80 percent of their time on the vital few rather than the trivial many. Clients include Adobe, Apple, Google, Facebook, Pixar, Salesforce.com, Symantec, Twitter, VMware and Yahoo!. His writing has appeared or been covered by Fast Company, Fortune, HuffPost, Politico, and Inc. Magazine. He is among the most popular bloggers for the Harvard Business Review and LinkedIn's Influencers group: averaging a million views a month. McKeown has been interviewed on numerous television and radio shows including NPR's All Things Considered and NBC's Press: Here. Entrepreneur Magazine voted his interview at Stanford University the #1 Must-See Video on Business, Creativity and Success.