Grisha Stewart answers members' pet training and behavior questions in live sessions, which are recorded and provided here for easy access.
These sessions are normally for members only, but we have made this general member Q & A recording public for you. Please share this page on Facebook or wherever you can, to help spread the word about ABBA. Thanks!
Questions in this video: 
What is the best harness for my dog?

What's the best way to bring a rescue dog home? Any tips for the first 24 hours?

My dog pees every time I get home. I tried to have him sit. What else should I do?

I've always been curious to hear more about Peanut's role in developing BAT.

Except for "Sprinkles" Lucy seems to start "working" around treats. Could you talk about that...?

Any advice about frustrated greeters on leash? I try to vary when moving forward, or back, and sometimes walk parallel, giving reinforcers for looking at me, or offering calm or sit for please. Sometimes Cai doesn't want food.

How do I give my dog a bath?

I'm advertising for a BAT practice dogs..have you ever done something like this? If so...what did you ask for...if not...what to look for? (I'm following up from our last class. and want to practice with Lucy more....but no one around to help…so I'm advertising locally....lots of students around here with dogs so I thought I would try that...) [Here is the link to the BAT groups that Grisha mentioned in the answer]
Free Sample members can check out
more videos
. Full student and pro members get even more features, including a discussion group, store discounts, etc.
Click to compare
.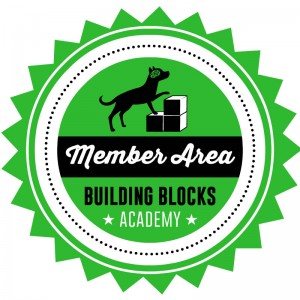 Building Blocks Members get instant access to video lessons, live Q&A, and more!

Professional, ad-free, expert advice

Click to Learn More
If you are already a member, please log in.