Grisha Stewart answers members' pet training and behavior questions in live sessions, which are recorded and provided here for easy access.
These sessions are normally for members only, but we have made this general member Q & A recording public for you. Please share it on Facebook or wherever you can, to help spread the word about ABBA. Thanks!
Questions in this video:
Do you have a suggestion to keep would-be petters away from your person-reactive dog when you're out on walks? I need tips for politely asking people to keep a distance.
I have a new case staying with me for a rescue that is highly human aggressive and moderately dog aggressive. a family down the road was not only still up but outside with their uncontrolled dog in an unfenced yard. I announce to the family (mother and 3 children) to please call their dog. Mom looks my way, says "I'm busy" and turns to go inside.How can I handle this without first feeling so angry that they are not respectful enough to a persons request to not allow their dog to approach but now to ensure their dog does not get close enough that my dog in training might attack?
My dog is triggered to frantically bark when we use a certain "pitch" calling out, such as: "Hi! I'm leaving now! Is that the mailman? Nice day!" Words don't seem to matter, it's more the "pitch." Since we are often interacting with someone when her barking is triggered, it is hard to anticipate, stop interacting, and work with the dog. Wondering how to better handle this?
My cat bolts out the door whenever I open it. How do I keep her from dashing out! She's really fast and sneaky.
I'm trying to teach my dog Sadie to come and she does ok if there are not a lot of distractions. But on trails she runs up to the other dogs or chases after squirrels and will not come back. What can I do to fix this?
For next time:  I have two Westies, male & female 5 years old. I have had the boy for 3 years and the girl her whole life. When they are out at the fence or in the house and someone goes by, they both bark and then he turns to her and attacks her. What can I do?
Related links:
Free Sample members can check out
more videos
. Full student and pro members get even more features, including a discussion group, store discounts, etc.
Click to compare
.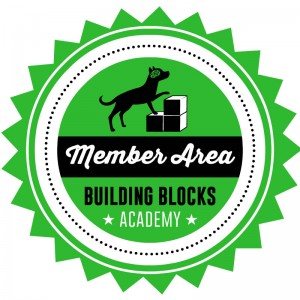 Building Blocks Members get instant access to video lessons, live Q&A, and more!

Professional, ad-free, expert advice

Click to Learn More
If you are already a member, please log in.