We answer members' pet training and behavior questions in live sessions, which are recorded and provided here for easy access. Please log in or sign up for a Student or Pro membership to see the video on this page.
Carly Loyer was the special guest expert in this Q&A Session.
Questions in this video:
Do dogs grieve? My older dog died recently and I think her "sister" is depressed. They were not really related, but they were very close.
My dog and I were in your online class. Can you please offer more suggestions of what my dog can be doing, while I play sounds, such as thunder storm noise for D/S?
do you have any tricks up your sleeve for when a dog becomes 'deaf' to a request that she knows only too well, well enough that if you tap your foot or say "what did I say" it gets performed. (Grisha answered last week as well)
My dog is a 3 yr old intact Leonberger. He is a show dog and registered therapy dog. In classes, at shows, dog events, he is non reactive. But if we encounter the random dog on walks,or get too close he will sometimes bolt, pull away and run to the other dog to sniff. If surprised indoors by a dog, he may bark and lung, then be fine. We are taking a break from therapy until this is resolved. help!
I've been trying to teach my dog to walk nicely on a leash and I have tried giving her treats when she comes back to me. She is not pulling as hard any more, but she'll run to the end of the leash, stop, and look back at me for her treat. As soon as she gets the food, she heads right back to the end of the leash again. What am I doing wrong?
What are the best ways to keep your dog from jumping up? I keep trying to fix my dogs jumping and I feel like she will never stop jumping up. She is already six months old.
My dog is chasing my cat in the apartment. It's kind of funny because they are the same size (he is a small Jack Russell terrier). But I think it scares the cat. How can I teach him to stop thinking she is a squirrel?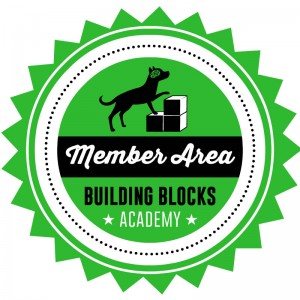 Building Blocks Members get instant access to video lessons, live Q&A, and more!

Professional, ad-free, expert advice

Click to Learn More
If you are already a member, please log in.