We answer members' pet training and behavior questions in live sessions, which are recorded and provided here for easy access. Please log in or sign up for a Student or Pro membership to see the video on this page.
Dog training and care questions in this video:
Do you use a lot of fake dogs (big toy dogs) in training? And in what kind of situations?
You are a public figure and a dog trainer, educating the public. If you were in a major city, SF, Chicago or NYC for example, and you saw an owner doing traditional training with a dog or puppy in a public place would you offer advice and how would you do it?
It is so interesting to see Peanut chewing on different toys in many of your videos. Is this common for adult dogs?
How do you keep him interested in these toys? Does it relieve stress and / or boredom?
how do leash handling skills differ when using the symmetry line for two handed attachment. you demonstrate the bow wrapping up of extra lead in the walking video. I can't seem to achieve this with the double leash. I do seem to need leash to let out in both hands though. what is the best way to handle this?
I'm working on confidence issues and loose leash with Munich, my doberman. Should I forego regular obedience training: stays, directed jumps, heeling, etc? Also, I use a flirt pole and ball fetch as supplemental exercise/reward or is it too exciting for a dog that I want to learn impulse control and calmness?
(follow-up) where would you put the coupler?
My older dog has advanced greatly around other dogs. Now I can move him pass other dogs with a treat in my hand. Just standing aroung other dogs with some distance, he looks at the other dogs and offers me head turn with eye contact which I mark and then throw treats to the ground. So he is still in a working mode with the eye contact? We should get away from this working mode? 🙂
My dog loves to chew on bully sticks or edible Nylabones or play games with his boxes when food is hidden or food puzzles. He is not interested in any toys, balls, is afraid of squeakers. My understanding is if a puppy is not used to playing with toys early on, hard to teach these skills later. Could you please comment?
Links Grisha referred to in this session (or could have):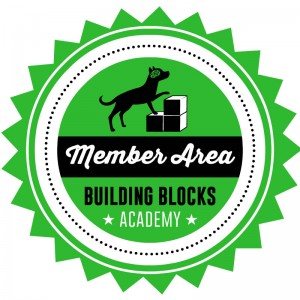 Building Blocks Members get instant access to video lessons, live Q&A, and more!

Professional, ad-free, expert advice

Click to Learn More
If you are already a member, please log in.