We answer members' pet training and behavior questions in live sessions, which are recorded and shown here. Please log in or sign up for a Student or Pro membership to see the video.
Dog training and care questions in this video:
Question about the dog events. If the male dogs begin to fight, is it because they are uncomfortable being there among other dogs in the first place (issues with other dogs also outside dog events), or because they are just males that are put too tight space together although no issues with other dogs outside dog events?
I feel I am constantly using treats on our walks. I reward walking calmly beside me, giving into leash pressure, offering stopping and waiting with eye contact, I use kibble for the easier things and high value for tougher ones. I am afraid that we are stuck and that I can't gradually decrease the constant treating. We live in the city with lots of distractions. What are your thoughts on this?
Bean is really adorable on the Bosu ball. Was great to see that Peanut can also do different activities with the same ball.Can you please describe the "Honeymoon Period" after adoption that you described in the last Q&A session: What it means and how long the period can be?
I want to generalize my question to selecting a dog for temperament once inside a reputable shelter. Many people speak to have lost a dog they loved and cherished after 10-14 years. After 1-4 years of recovery, they are ready are ready to adopt another, but they are not trainers. How do they select for temperament? Shelters need to adopt dogs out and many are not legally allowed to recommend one private over another other then suggesting ADPT or CCPDT lists by zip code.
Bean seems to really enjoy sitting at the highest peak of the Bosu ball.Does he do that generally, or is it just during the Q&A?
I know that some animals like to sit on high peaks to watch activity at home. Would you say that this can be true of certain dogs also?
If you have done many successful setups and dog shows no reactivity at all. How do you begin with real life? Not using the survival skills anymore?
I went over some videos of Bean - the end of a BAT set-up and some recall training.
Links I referred to in this session (or could have):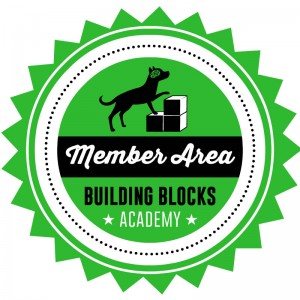 Building Blocks Members get instant access to video lessons, live Q&A, and more!

Professional, ad-free, expert advice

Click to Learn More
If you are already a member, please log in.