We answer members' pet training and behavior questions in live sessions, which are recorded and shown here. Please log in or sign up for a Student or Pro membership to see the video.
Dog training and care questions in this video:
Is CC needed or is Mark and Move ->"find it" enough for a dog barking other dogs if you can´t do BAT setups, just ninjaBAT? With CC I mean Bar open-Bar closed -technique where you feed the dog when he sees the trigger.
This is a question for working with a private trainer:
So, if my dog has issues with reactivity, and a trainer wanted to work privately in my home, it would be acceptable for me to say in advance, "I would like you to please show me how to do the technique, but I prefer that you do not approach my dog. My dog would be too scared and he would be too overwhelmed to learn."
Part 2: Can I ask a private trainer to meet my dog and me outside in a neutral area, if my dog has issues related to reactivity? Would that be acceptable, if i know from experience that my dog would feel less comfortable if a new trainer enters our home, a space where my dog is comfortable?
Do you think the Balance Harness posted in our online group by... I think Lenni... is strong enough for occasional lungers? I'm using the Freedom Harness now but I think it might rub a bit under my dog's arms.
Our puppy is doing great with everything except other dogs when passing by in our walks or in dog events. She can M&M with a distance. But when other dogs come closer, she does not want to M&M or recall, she just watches the other dogs until barks very boldly. She plays with other dogs weekly and is having fun. Should continue work with a distance?
BAT BOOK, second edition.
When will this be published? Where will we be able to purchase it?
Once my reactive puppy warms up to guests in the home, she will bounce, nip, play-bow, and yap at them. I think she is trying to initiate play, but it's understandably annoying and potentially scary to my guests. Why does she do this? What's the best way to teach her to behave politely around new people?
I don't currently have opportunities to do real setups with dogs, and Ninja-BAT is rarely an option when my dog's threshold is still very far. However, BAT has helped me see that my dog has far more triggers than just dogs. If we spend time on our walks doing Ninja BAT to people, is she also building skills of "how to BAT" that will help us when we can eventually work with dogs?
I know a mishandled positive interrupter can become part of a chained behavior. What are some good ways to avoid this?
Is peanut also still on a 100% reinforcement schedule for recall?
Have you trained with Bean SECs? Could this be useful with noise plays from the phone (e.g. sound of dog barking) and people walking by your yard? Anything sudden you can think of?
I´m now doing CC/M&M again with my dog when we get out of the car. I do it 10 minutes and then break in the car and another 10 minutes and then we leave. I keep him in a bit tight leash if grass is near. Otherwise more slack. Does this sound a good method? He is eager to go to sniff and bark, but I won´t let him. I reward also all the eye contacts and we walk a bit.
Links I referred to in this session (or could have):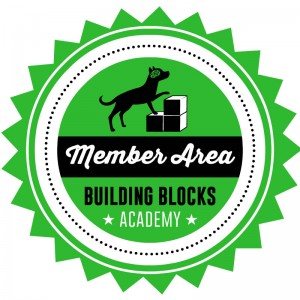 Building Blocks Members get instant access to video lessons, live Q&A, and more!

Professional, ad-free, expert advice

Click to Learn More
If you are already a member, please log in.