We answer members' pet training and behavior questions in live sessions, which are recorded and shown here. Please log in or sign up for a Student or Pro membership to see the video.
Dog training and care questions in this video:
If your dog likes to chase e.g. birds, deers, and you keep him on a long leash (10m). What should be done when the dog sees the prey? Should you give him a cue like "sit", "wait" or recall? Or how to practise using the long leash that the dog begins to listen the owner? What if dog gets too excited and can´t listen, so you can´t get any better but of course the dog can´t chase (long leash).
With BAT with your own dogs, what types of responses to triggers have been intellectual responses where they make a choice to react in a certain way because they have learned that this achieves their desired outcome ? And what responses do you feel were involuntary responses, like a reflex action to a trigger ? And your thoughts on BAT for reflex actions and intellectual responses.
what is the cost of the on line webinar you sent out notification about?
I went over some topics of my own:

Play time with Bean
Zig-Zag version of Mark and Move for frustration, predation, and generally pulling on leash
Links I referred to in this session (or could have):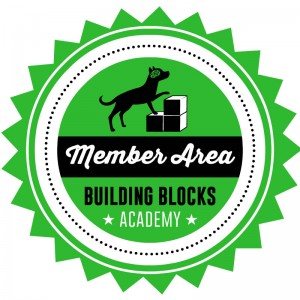 Building Blocks Members get instant access to video lessons, live Q&A, and more!

Professional, ad-free, expert advice

Click to Learn More
If you are already a member, please log in.