We answer members' pet training and behavior questions in live sessions, which are recorded and shown here. Please log in or sign up for a Student or Pro membership to see the video.
Dog training and care questions in this video:
What if you have to put pressure on the leash to "lead" them away?
I recently took my reactive puppy to a supposed "positive reinforcement" trainer because he said that he was experienced handling reactivity. However, he told me that if she ever tried to bite him (she has not tried to bite anyone, btw), he would allow her to bite his gloved hand, then force his fist down her throat. Is this normal? I feel like I should find a different trainer.
My puppy is great when walking in busy city. But when walking in our own quiet street, she barks and jumps when seeing a person or a dog. This barking begins as soon as the puppy sees the person and hard to make it stop 🙂
How is Peanut doing? (In answer, I talked about Peanut's food intolerance results from the cool Nutriscan test)
I went over some topics of my own:

Zig-Zag version of Mark and Move for frustration, predation, and generally pulling on leash
Rant about how "positive" trainers should apply empowerment principles and maximize reinforcement / avoid positive punishment when looking to change human behavior
Links I referred to in this session (or could have):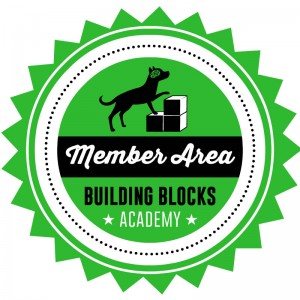 Building Blocks Members get instant access to video lessons, live Q&A, and more!

Professional, ad-free, expert advice

Click to Learn More
If you are already a member, please log in.