We answer members' pet training and behavior questions in live sessions, which are recorded and shown here. Please log in or sign up for a Student or Pro membership to see the video.
Dog training and care questions in this video:
All of that travel sound exciting! Bean got so big! Can you please talk about day to day difference that you saw between dogs in domestic life in Europe and in the US?
When multiple dogs live together how much do their behavior and states of mind influence the other/s? I see that if one of my 2 dogs react to something the other one is likely to do the same. My female also seems to mirror my male dogs emotional state. He doesn't seem to be as effected by her.
When dog is friendly but shy with other dogs, in BAT setups there is no problem greeting the decoy dog as in a while they want to circle to the decoy dog. Is it good to greet the decoy dog in first BAT setup? Shoud parallel walking be done with strange dogs? No greetings?Part II: With a friendly, but shy dog, would it be good to do a paraller walking without greeting (get used to walking with a strange dog) and then continue with BAT kind of sniffing in a large grass area with greeting?
I live in a downtown area and my dog is very good about dogs there. When we visit my mom in the country, he barks at other dogs? Why is this and what can I do about it?
What do you do if your dog is about to lunge out at another dog or person? (Say you are surprised)
Special topics:

Importance of warm-up session for BAT set-ups
Monthly Challenge: tooth brushing
Check out the play video with Bean and Peanut at the end
Links I referred to in this session (or could have):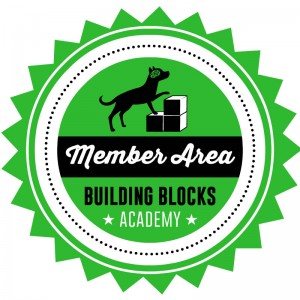 Building Blocks Members get instant access to video lessons, live Q&A, and more!

Professional, ad-free, expert advice

Click to Learn More
If you are already a member, please log in.