We answer members' pet training and behavior questions in live sessions, which are recorded and shown here. Please log in or sign up for a Student or Pro membership to see the video.
Dog training and care questions in this video:
Can you talk a little bit about doing following-BAT? I had some opportunities to do this ninja-style today. Since moving toward the trigger is ok when following... Should I watch for arousal differently?
When you have done a successful setup with the decoy dog, would it be good now to practise everyday walks with the decoy dog? And how would you practise? Parallel walkings?: walking directly toward each other, following the other.
Welcome back! I know that you spoke about snuffle park experience, and I cannot remember in which section it was here. I queried it and looked in the online classes that I am in. Can you please re-post the link?
This question is about Peanut and Bean. When people, give more attention to Bean, (as a puppy,) how do you balance this for both dogs to avoid jealousy?
For people with dogs with shy tendencies, how do you recommend evaluating a helper dog to practice with, (not to adopt,) who can help the dog with the shy tendencies to practice?
The best way to introduce two dogs to each other is off leash? What is another one is a shy one?
Special topic:

What's the best way to talk to people about their own dogs when they don't know they need help
Links I referred to in this session (or could have):
Snuffle Park - here's the Karen Bailey video I mentioned.

Dr. Susan Friedman is our next guest at the Animal World Superstars interview session for pro members.

View the list of upcoming BAT Chats for pro members of ABBA. The first one is this month! Participating by watching, sharing video, etc. is a great way to improve your BAT skills.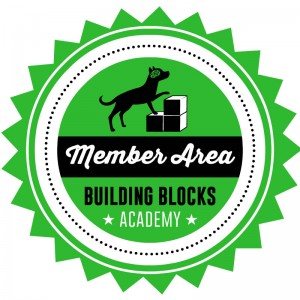 Building Blocks Members get instant access to video lessons, live Q&A, and more!

Professional, ad-free, expert advice

Click to Learn More
If you are already a member, please log in.