We answer members' pet training and behavior questions in live sessions, which are recorded and shown here. Please log in or sign up for a Student or Pro membership to see the video.
Dog training and care questions in this video:
Which of the videos here outlines a good training plan for an adopted dog with key skills to train?
When do you begin to use "all done" -cue with the crate training, when the dog wants out of the crate but you deny it?
If you have a dog and want to adopt another, what is the best way to introduce the two dogs, length of time needed to judge to tell if it will be a match?
Hello, My dog and I have joined a Responsible pet program which involves visiting schools teaching kids how to be safe around dogs. Spice needs to stand for pats being stroked from neck to base of tail. The children approach her. She stands still but tail is a bit low. How would you approach training her to love this? Thank you 🙂
I'm bringing home a puppy and preparing for the house training stage. I had a high reactive dog who was rehomed because of dangerous aggression, one triggers was my back yard with two aggressive next door dogs. Kept my previous dog inside while at work. Will be home for the puppy for a few weeks, but what happens when I go to work, toilet training wise, if he's an inside dog? No dog flap.
For toilet training a puppy in an apartment situation (plus having to leave the house for work), does the fake grass system work? Is there other ways to house train?
Hi Grisha, I've taught my dog the cue 'find treat'. It works really well to distract him. He gets VERY excited when he hears it. So I wonder if that level of excitement isn't counterproductive with the idea of calming him? Thanks 🙂
(Follow-up for Spice) Would teaching Spice to target something ( target stick) while being patted be something you would try- so when she stops targeting the kids are instructed to stop patting?
Special topics:
Links I referred to in this session (or could have):
Bean's new travel crate is technically for a medium-sized dog, but I like to use large crates for longer confinement. This is the largest that fits in my car. I also mentioned I'm covering it with fleece and a Space Blanket when he's alone in the car, with a seat heater underneath the crate. He is seat-belted in (not in the crate) when the car is moving.
Some useful videos from the Member Library: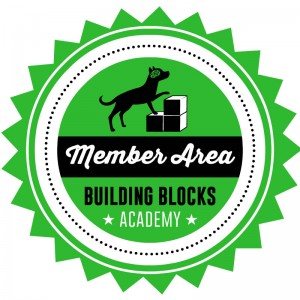 Building Blocks Members get instant access to video lessons, live Q&A, and more!

Professional, ad-free, expert advice

Click to Learn More
If you are already a member, please log in.