In the Office Hours, I answer members' pet training and behavior questions in live sessions, which are recorded and shown here. Please log in or sign up for a Student or Pro membership to see the video.
Dog training and care questions in this video:
We are formally converting our third bedroom (and old garage) into a full on mud/kennel room/office. How much consideration do you give the paint color in regards to what colors dogs can see? We do have one very anxious senior who is on Prozac and we use Hemp CBD as well. We are leaning towards a color called Pool Tile from Valspar, which is a lighter teal/blue.
We would like to be able to record visual and sounds of the dogs

while we are gone. Since my office will he in there, we can use anything that connects to the desk top or wireless. I've read lots of weird hacking stories about various monitoring options, so would like it to be very secure from that.

There was a post a while ago in here [Facebook] about a remote treat dispenser for working on sep angst or other challenges. I think it was Grisha who had ordered one... any recommendations would be welcome. My wee girl seems to be escalating despite all the usual methods... need to find some way to engage her brain without being in the room. I've been considering this one...(Pawbo)
I also talked about:

BAT Leash skills in busy areas (like at the airport, with luggage)
Bean's trip
Links I referred to in this session (or could have):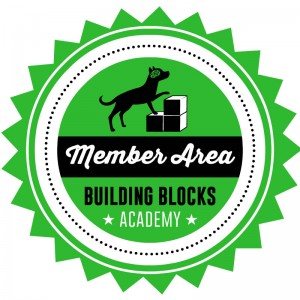 Building Blocks Members get instant access to video lessons, live Q&A, and more!

Professional, ad-free, expert advice

Click to Learn More
If you are already a member, please log in.