In the Office Hours, I answer members' pet training and behavior questions in live sessions, which are recorded and shown here. Please log in or sign up for a Student or Pro membership to see the video.
Dog training and care questions in this video: [Not live because I'm traveling for the Teamwork seminar tour]
I just saw the interview with Helen Zulch and what hit home was the dog addict. Since we moved (he has had problems with stress) I focused on contact or unprompted check ins, but accidentally created a heeler. When it's dark, windy or wet the "all done" is not very effective and he gets frustrated if he doesn't get to heel and be rewarded. Should I let him choose on those days?
A friend allowed my puppy up on the couch while I wasn't watching. Now she jumps up on it. What's the best way to undo this?
Just a follow up on my couch jumping question, my puppy is mostly in her play pen so I have prevention in place. The couch jumping has happened when I have her out of the play pen for some training or a short break. I will probably do some sitting on the couch with her in a drop on a lead, but it's when she's on the couch, I'm not sure what's the best way to get her off.
Apologies if I missed this in a video, but did Bean travel with you in the passenger part of the plan and no cargo? Just curious. Do you recommend not travelling with your dog in cargo?
Is hiking with you dog off leash rewarding for the dog? Are they're any benifits? I've been on a couple of bushwalks with my puppy and she does a lot less sniffing, as she's making sure she keeps up with me. I walk fairly slow.
In your recent ' Premack Principle for squirrel chasing', you use the chasing as a reward [here and here in the Facebook group]. My question is how can you do a reverse of this using premack, if premack is possible in this scenario? So in teaching self control or steadiness exercises around other animals to NOT chase, can premack be applied? i.e might include dogs around livestock, gundogs not to chase game birds, cats on walks 🙂
Hi Grisha, I am currently working on, no excessive barking at the neighbors dog -which is in the back yard. Any tips that I can use to train her on quiet ( I am using "leave it" command). But wondered if I can teach quiet or no bark? -
The other dog does not bark back which is great. I usually have to manage the situation by bringing her inside
I also talked about:

Demos of off leash training with Bean
Leave it for yucky things (fox scat)
Using water as a reinforcer
Related videos in the Member Library: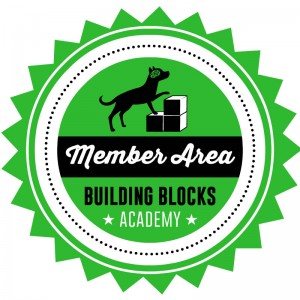 Building Blocks Members get instant access to video lessons, live Q&A, and more!

Professional, ad-free, expert advice

Click to Learn More
If you are already a member, please log in.