In the Office Hours, I answer members' pet training and behavior questions in live sessions, which are recorded and shown here. Please log in or sign up for a Student or Pro membership to see the video.
Dog training and care questions in this video: 
Can you recommend any dog training curriculum software you like to organize training sequences for dog trying clients ? Thank you!
Great to meet you in NYC. Loved the Teamwork seminar! Great that Bean slept through. At the seminar, you said that humans tend to lead their dogs even when intentionally trying not to. How could one avoid leading their dog in a set-up, when your dog does not notice the decoy dog and you want to make sure your dog does?
When you showed the video of Bean on your bed in the hotel room waiting for the delivery, was Bean on the bed because you thought that he would be less likely to be scared of the delivery person if he was sitting on the bed, (i.e. at a higher level than on the floor?)
Ever since we took your class, we have practiced with a happy "Treat Party" / every single day in the park, with treats every single time. I notice from your video in Pennsylvania that Bean responds to your recall much more immediately at a longer distance. Should we try higher value treats?
When you showed Bean off leash, in the forest, you used a food reward that looked like 'bacon' on screen to lure him away from eating something in the forest. What was it?
What would your advice be for a person who wants to be a professional dog walker--should they train as a dog trainer or as a CBATI?
When on your trip, would you ever leave Bean alone in a hotel? Will you take him on your international trips?
What was/is the process for a dog to become a professional service-dog?  Does Bean need to be zipped into his carry bag under the seat in-front of you for take-off and landing? What is the brand of the HUGE portable crate that you used for Bean?
Bean is so cute in all of your videos. When you are at home in a relaxed environment and during the course of the day you want to reward Bean for being calm or not barking etc., and you want to reward him with food, would you use medium stakes food, rather that it be his favorite thing ever to eat?
In the video with Peanut where he has a food puzzle that looks like a huge block, what was it?
What are your thoughts about dog coats and whether smaller dogs need them or not?
I have a colleague who wants to seek the help of a trainer both for behavior issues with his dog and also for non-compliance (toward the dog,) on the part of his family members, including his partner and children. He is procrastinating on seeking help because he heard that the longer the dog has been doing the behavior the longer / the more work it will be to train the dog new behaviors. Advice?
What is your advice for dog walkers who want to walk multiple dogs from different households, in a city, (not in a park,) at the same time in an urban area? Does it work?
Bean and Peanut look great together at home. What do you feed them from that glass bowl? I have not been able to find cheerios without sugar. Where do you purchase it from?
I also talked about:
Links I referred to in this session (or could have):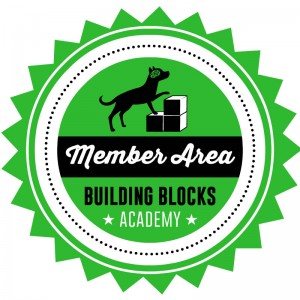 Building Blocks Members get instant access to video lessons, live Q&A, and more!

Professional, ad-free, expert advice

Click to Learn More
If you are already a member, please log in.