In the Office Hours, I answer members' pet training and behavior questions in live sessions, which are recorded and shown here. Please log in or sign up for a Student or Pro membership to see the video.
Dog training and care questions in this video: 
In follow up to Friday's question about dog walkers walking multiple dogs, what are your thoughts about meeting the dogs' needs when the multiple dogs being walked by the walker are off leash on an under-populated trail? Sunrise is terrified of these packs, your comments made me wonder if she's picking up on something from them. Typically the dogs are from different households.
One last question --you spoke about 'mimicry' with dogs. As a puppy, would Bean be most likely to mimic, Peanut, another puppy, (i.e. dog,). or you, as the purveyor of good things, (i.e. scritches, massage, food, play, etc.)?
A friend of mine has 2 rescue dogs. When they rescued the second dog they started having issues with marking behavior. Both dogs are neutered males. Niether are crate trained and may have a bit of separation anxiety. Assuming there are no urinary tract health issues would you work on crate training and strict supervision first? Possibly bellybands, but what if they rip those off?
I also talked about:

BAT leash skills in New York City (videos)
Adapting the BAT leash skills to use with a 50 foot long line (videos)
Links I referred to in this session (or could have):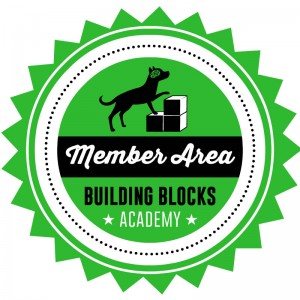 Building Blocks Members get instant access to video lessons, live Q&A, and more!

Professional, ad-free, expert advice

Click to Learn More
If you are already a member, please log in.