In the Office Hours, I answer members' pet training and behavior questions in live sessions, which are recorded and shown here. Please log in or sign up for a Student or Pro membership to see the video.
Dog training and care questions in this video: 
Hello Grisha! I have a 1.5 y/o aus. shepherd that has some sound sensitivity issues. I plan on doing counter conditioning--but, my question is: What is the best way to handle a larger dog that is mid-walk and is triggered by a sound (i.e. basketball bouncing)? I'm afraid bolting and dragging me all the way home is reinforcing because he gets home and feels "safe" but don't know what else to do.
I feel like I am constantly taking things out of my puppy's mouth (5 month lab).  What can I do to get him to stop chewing everything!
My puppy rules the house already. He brings me the food bowl to say it's time to feed him, and I do. He sleeps in my bed. Is that okay?
My dog is becoming a cranky old man. He's 8 and when I pet him sometimes he groans or even growls at me. One time he even showed his teeth. Is there anything I can do about that? Or is it normal?
I have a dog that's really playful.  A lot of other dogs seem to growl and snap at her but she's just trying to play. Should I do anything about it or just let them work it out?
I also talked about

Chemo in dogs
New body handling training for Peanut
Bucket list for your dog
Links I referred to in this session (or could have):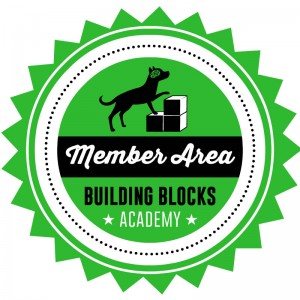 Building Blocks Members get instant access to video lessons, live Q&A, and more!

Professional, ad-free, expert advice

Click to Learn More
If you are already a member, please log in.