In the Office Hours, I answer members' pet training and behavior questions in live sessions, which are recorded and shown here. Please log in or sign up for a Student or Pro membership to see the video.
Dog training and care questions in this video: 
My dog is generally disinterested in small puppies. If a puppy is off leash in the park and one wants to meet my dog, I will kneel down to be next to him and gauge his interest / protect him from the jumping. The puppies nearly always jump up and lick me right in the face. Can you please speak about this? Would this be the puppies attempt to obtain information from me at eye level?
My australian shepherd who has been in car rides since he was a puppy and hasn't had any issues (never nauseous, no excessive drooling) other than some excited whining during the first part of the ride has just started to bark at a few different things outside of the car (a woman near the window he was looking out of at a grocery store, a bicyclist + an open convertible w/ people). Best way to manage?
A friend has an adopted dog who came from his first home with a fabric toy 6 years old. The dog still plays with this same
exact toy every single day, even thought it is now just a piece of fabric. They think it provides a kind of security for the dog. Have you seen this before, i.e., a dog who uses one specific "toy", and will not accept a newer version of the same item throughout his life?
I attended your Team Work seminar in NYC.
You have spoken about the human's tendency to put his/her hand out when meeting a dog. Did I understand you correctly that a dog can smell a person as well from 2-3 feet away in an environment--then if the person reaches his/her hand toward the dog, which the dog might find aversive and/or confusing?
There's a dog park being created close to where I live, and they're looking for input on how to help make it a safe environment. Any (realistic) suggestions on behaviors that should be prohibited or monitored?
How do I manage the leash skills on a walk where I need to just go a certain direction or walk past distractions? In BAT we don't lead the dog but what about those situations?
Links I referred to in this session (or could have):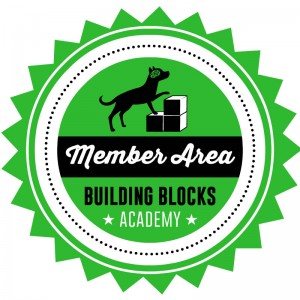 Building Blocks Members get instant access to video lessons, live Q&A, and more!

Professional, ad-free, expert advice

Click to Learn More
If you are already a member, please log in.