In the Office Hours, I answer members' pet training and behavior questions in live sessions, which are recorded and shown here. Please log in or sign up for a Student or Pro membership to see the video.
Dog training and care questions in this video: 
My dog has been showing unusual signs of fear (like fearful of a black string on the floor). I think she might be going through another fear period. Should I help her see it is not scary and if so how should I do it?
Football. Is red card positive or negative punishment? you add card, but the actual consequence is to leave the game. And yellow card.. you stay in the game but have been warned (punished as it may have undesired consequence later). does it work like some sort of conditioned punisher, like "no!" in a dog world?
Here's a question, is there ever a time we can work on having the decoy dog walk towards the student dog? The dog is now better if the dog is not paying attention or walking away but walking past is still challenging. Can you lead the dog towards the other dog (at a big distance)?
I'm in the process of hiring a new trainer to help me with my BAT setup experience. They are offering a "BAT class" with another reactive dog which has also been doing BAT work for several months. I have full faith in the trainer (she mentors under Katie Grillaert - who is one of the best I know), but still a bit concerned. What questions can I ask them to help me overcome my own trepidation?
I've heard that sliding around on slippery floors is not good for the development of joints in growing puppies, is this true? I have a set of hardwood stairs that are very smooth and slippery and I worry about my hypothetical future puppy. Will I need to carry him up and down the stairs for his safety? (P.S I'm really enjoying this place, thanks so much for all your hard work 🙂
I've been using the Premack Principle to improve Lucy's response
to "Here" with distractions. She loves to chase squirrels so we "sit/stay" and "check it out" at trees. Now I've added "here!" before "check it out".
Running into some difficulties with her deciding to check it out by herself.. abruptly !!!! She is pretty good with loose leash. Are the squirrels just too exciting to train with ?
I also talked about:

New series on my YouTube Channel: "I've Changed My Mind"
Went over a BAT set-up video (Vizsla & Kromfohrlander)
Links I referred to in this session (or could have):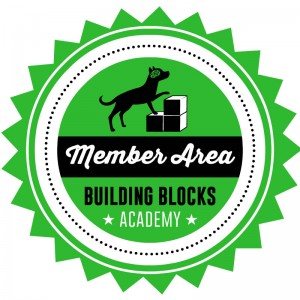 Building Blocks Members get instant access to video lessons, live Q&A, and more!

Professional, ad-free, expert advice

Click to Learn More
If you are already a member, please log in.