In the Office Hours, I answer members' pet training and behavior questions in live sessions, which are recorded and shown here. Please log in or sign up for a Student or Pro membership to see the video.
Dog training and care questions in this video: 
Following up on Scent detection question.. What do you think of the all clear behavior? (IE: Dog does search. If he finds scent offers sitting facing the scent. IF no scent found in the space Dog offers go to handler and lay facing his feet )
I saw Ken Ramirez talk about this and I love it! Dog always has a way to have success, less false positives trying to get a reward. Thoughts?
Tracking: does anyone who uses the BAT leash skills to teach less pulling on leash do tracking? Generally when I see people and their dogs tracking there looks like a lot of pulling on the leash to go forward following the track fast. Does tracking style (pulling, running) affect bat leash walking style or does bat leash walking style (gentle, easy going) affect tracking style?
Thank you for this opportunity to ask questions. It is a great learning experience. I would like to see more of the BAT session from Sweden. Also, at what point in BAT set-ups could you introduce 2 dogs where one dog is wearing a muzzle, and still feel that is is fair to the dog wearing the muzzle? (That the dog with the muzzle would not be under social pressure if s/he wanted to disengage?)
I know when you were first doing on-leash walks with Bean on the long line you were able to have Peanut off-leash, but is it possible to use the same kinds of leash handling skills with two dogs on leash? Do you have any recommendations for walks with two dogs and one person when they just can't be off leash (like in the city)?
Warning, question about dog testicles ahead! Since Bean is still intact, have you done any cooperative care work with him for having his testicles examined? I recently talked to someone who lamented that her dog was fine with having her (the owner) handle them but would not let the vet or anyone else do an exam. How do you generalize this? It seems like an awkward thing to ask your friends to do.
When I asked my earlier question, ( r.e. playtime for 2 dogs,) I was curious what your thoughts would be if the dogs were off-leash, with 1 dog wearing a muzzle?
Is this something that you might do, after multiple BAT sessions?
I also talked about:

Body language in a video of Bean meeting a new dog
Some things I noticed at the Alaska Wildlife Rehab Center near Girdwood (south of Anchorage)
Links I referred to in this session (or could have):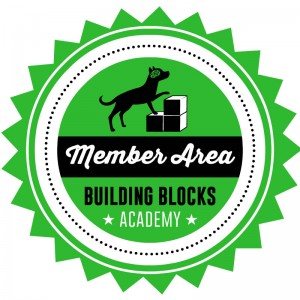 Building Blocks Members get instant access to video lessons, live Q&A, and more!

Professional, ad-free, expert advice

Click to Learn More
If you are already a member, please log in.