In the Office Hours, I answer members' pet training and behavior questions in live sessions, which are recorded and shown here. Please log in or sign up for a Student or Pro membership to see the video.
Dog training and care questions in this video: 
Is It okay to have two break cues back to back. This evening I broke Astra out of her crate in my van, clipped on her lead and said another 'break' for her to jump down out of the van.
I've recently determined that my guy Arnold is really only reactive (lunging / raised hackles) towards other dogs when they look at him. How might I use that knowledge to make the most use out of our BAT set-ups?
I also talked about

Body language in several videos, including dogs at a music festival and a dog and pig "best friend" viral video from Facebook.
Chin targeting videos posted for the August Monthly Challenge.
Links I referred to in this session (or could have):
Register soon! Online Seminar: Small Dogs Rule. Webinar for all dog lovers, with discounts just for ABBA members.
These are the links I was talking about in the Facebook group (you'll only be able to view these if you are in that group):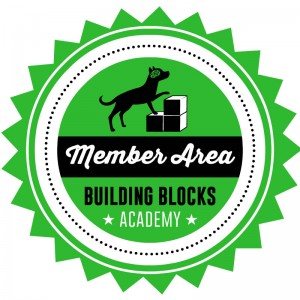 Building Blocks Members get instant access to video lessons, live Q&A, and more!

Professional, ad-free, expert advice

Click to Learn More
If you are already a member, please log in.