In the Office Hours, I answer members' pet training and behavior questions in live sessions, which are recorded and shown here. Please log in or sign up for a Student or Pro membership to see the video.
Dog training and care questions in this video: 
am having a problem finding the appropriate back attachment harness for my 9 pound poodle. (breast bone 15 ')I have ordered many and sent them all back.
Any tips on a small comfy BAT harness?
My dog (9 months old) is really great when my Yoga students come to the house. He's calm, doesn't jump up and greets everyone nicely. I can have up to 6 people come at once and have worked very hard at teaching him that this is appropriate behavior when we have guests.
However, we had a house painter come to give an estimate and this morning a friend came to look at doing some other work in the yard and my dog LOST HIS MIND! Help!
We have a question for anyone who has moved from an apartment where the dog always had to be taken out on leash to potty into a house with a yard? Our friends' Bulldog, Duke, won't use the yard at all. It is all grass with cement walks on both sides and a cement patio. He did go when we brought our two female dogs over but wouldn't go again once they left. Any ideas to help get Duke to potty in his new yard?
I watched the BAT Feature FIlm "Walk with me" and there's one thing I haven't understood. I love the concept of giving your dog time to sniff around and just let her determine where she wants to go and to sniff. Just how can I tell my dog, without frustrating her, that now is not the time for BAT but for a brisk walking pace?
I also talked about:

Is it okay to have your dog above you while you lie down?
Training the Down cue with Zuki (and double-dog training using stationing)
Links I referred to in this session (or could have):
Online Seminar: Small Dogs Rule is today October 4. Webinar for all dog lovers, with discounts just for ABBA members. Recording is available for purchase after the seminar.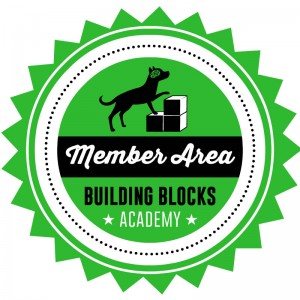 Building Blocks Members get instant access to video lessons, live Q&A, and more!

Professional, ad-free, expert advice

Click to Learn More
If you are already a member, please log in.