In the Office Hours, I answer members' pet training and behavior questions in live sessions, which are recorded and shown here. Please log in or sign up for a Student or Pro membership to see the video.
Dog training and care questions in this video: 
Looking for some advice on the best way to manage and potentially simultaneously reduce stress on my dog during a bathroom remodel in an apartment. I've been staying with him in a separate room and rewarding calm behavior in addition to trying to toss treats or give small amounts of peanut butter after hammering, drills, etc. But not sure if it will be beneficial if he is too close to the stimuli.
Seeking cat empowerment advice: Positive ways to help my cat curb her vocalizing at mealtimes? Right now I'm relying on negative reinforcement and I'm not comfortable with it (ie, I leave the kitchen or food goes away when she starts yowling, etc.) I'm about to start her on food toys so expect that will help, and feeding her in unexpected places at unexpected times.
Links I referred to in this session (or could have):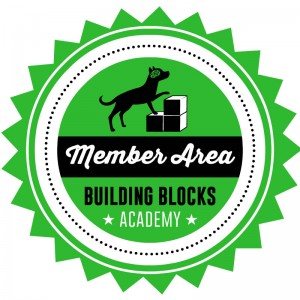 Building Blocks Members get instant access to video lessons, live Q&A, and more!

Professional, ad-free, expert advice

Click to Learn More
If you are already a member, please log in.