Best known for the technique of Behavior Adjustment Training (BAT), Grisha also understands that it's not always possible to train in the ideal way, with the dog learning at his own pace.
If you have already purchased this video, please log in with the user info you created.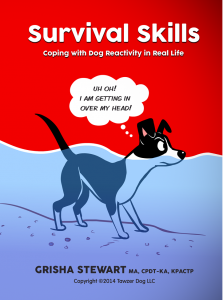 Video #4 in the BAT 2.0 Empowered Animals Series (Buy the set)
Presented by: Grisha Stewart MA, CPDT-KA, KPACTP
Instant streaming on your computer or mobile device (not a download - physical DVDs sold separately)
Watch as many times as you want!
Run time: 1 hr 12 mins
Produced by TawzerDog in 2014 for home viewers (not just a filmed seminar)
Includes a PDF with slides to go along with the video
Sometimes we just don't want to be the one holding the leash with the barking-lunging-freaking-out-dog at the other end.
This video has practical solutions to help dogs hold it together on everyday walks. The dog can't do all of the work - sometimes that is your job, as the one with the larger brain and the thumbs.
One major difference between savvy dog trainers and regular pet lovers is that good professional trainers know how to take charge and set dogs up for success. But even pro trainers sometimes manage too much. It's a fine line.
Grisha suggests a path between 1) reacting only when the dog is too excited to listen and 2) micromanaging to the point where the dog is not learning. She will teach you ways to prevent problems before they start, react when you have to, and set the dog up to learn as much as possible from each situation.
Save on your video by getting a Building Blocks membership at the same time. Members get discounts here in the Campus Store, plus unlimited access to tons of video lessons.
---
Purchase: Feature Film - Survival Skills: Dog Reactivity
---
---
* Student Members get access to tons of how-to videos, discounts in our Campus Store, and access to other resources in our community. Does not automatically renew.
** Pro Members get all of the Student Member benefits, plus bigger discounts, Animal World Superstars interviews, and more features for dog trainers. Hobby trainers are welcome - you need not be a working professional. Does not automatically renew.