Online seminar recorded April 20, 2016 - Presented by: Grisha Stewart, MA, CPDT-KA. Looking for a great way to jumpstart your dog training and have a stronger relationship with your dog? Or maybe you're a professional trainer looking for better ways to train or explain?
Professional dog trainer and author Grisha Stewart has a unique perspective on life with dogs. Her training style focuses on using clear communication and empowerment to teach behavior that improves the quality of life for everyone in the family, including the dog(s).
---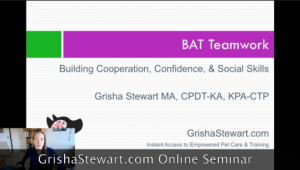 If you are already registered for this online seminar recording, please log in to view it.
This is a recorded video. For a live presentation near you, please look at Grisha's upcoming live Teamwork seminar schedule.
About this Online Seminar:
Presented by: Grisha Stewart, MA, CPDT-KA on April 20, 2016
Streaming on your computer or mobile device (not a download or a physical DVD)
Watch the recording as many times as you want
Run time: 2 hr 17 mins
Pro Members can earn CPDT CEUs (membership must be active on our next reporting date). The CEUs are only CPDT, not CCBC.
TOPICS:
This 2.25 hour seminar is packed with information on how to build a reliable relationship with your dog. This seminar includes info on Grisha's BAT 2.0 technique and also explores some fundamental techniques and ideas that will put you in a better position to train at home, in our online school, or in group classes with a local dog trainer.
How unmet needs lead to problems
Solving problems with empowerment
Using empowerment  for aggression, frustration, and fear in dogs -  example: Behavior Adjustment Training (BAT)
How to read body language and ask your dog questions
How to encourage cooperation, for example, with:

Coming when called
Polite walking (including the BAT leash skills)
Vet care & grooming
ABOUT Grisha: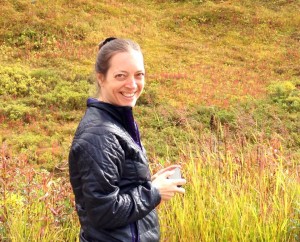 Grisha Stewart, MA, CPDT-KA is an author, international speaker, and dog trainer who specializes in dog reactivity. She developed the Behavior Adjustment Training (BAT) technique and is the author of 3 books and a dozen DVDS. Her newest book, BAT 2.0: New Practical Techniques for Fear, Frustration, and Aggression in Dogs will be published by Dogwise in February 2016 (preorders available).
Grisha runs Empowered Animals, LLC and her online school, the Animal Building Blocks Academy, from Alaska. She and her family live near Anchorage, where her Bean and Dharma the cat inspire her to always learn more.
If you like this seminar, please help us out by sharing or subscribing to my event page on Facebook!
Please register with the form below:
If you are already a member or have made a purchase at GrishaStewart.com before, please log in with the user info you created.
Bonus! Register for this seminar today and you'll also get a FREE MONTH of student membership in Grisha's online Animal Building Blocks Academy, no strings attached (new members only).
You will still be able to log in to access this recording and other store items at any time, even when your other student membership perks automatically expire.