Communication and Cooperation for Aggression, Fear, Frustration, and Manners
Professional dog trainer and author Grisha Stewart has a unique perspective on life with dogs and reactivity. Her training style focuses on using clear communication and empowerment to improve the whole family's quality of life, including humans, dogs, and any other species that shares your home.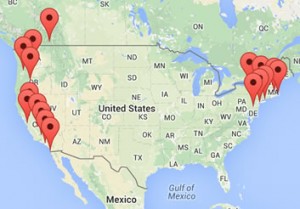 Grisha will be teaching BAT Teamwork dog training seminars in 2018, with a portion of proceeds donated to local animal shelters and rescues at most locations.
No seminar near you? No worries. You can watch it online! Sign up for an streaming video recording of the Teamwork seminar.
What Will I Learn?
These 2-hour seminars are packed with information on how to solve behavior problems and build a reliable relationship with your dog. This seminar explores some fundamental techniques and ideas that will put you in a better position to train at home or in group classes with a local dog trainer, and includes some info on Grisha's BAT 2.0 technique for dog reactivity and socialization. Professional dog trainers are also encouraged to attend because these are non-standard ideas that may change the way you teach.
How unmet needs lead to problems
Solving problems with empowerment
Using empowerment  for aggression, frustration, and fear in dogs -  example: Behavior Adjustment Training (BAT)
How to read body language and ask your dog questions
How to encourage cooperation, for example, with:

Coming when called
Polite walking (including the BAT leash skills)
Vet care & grooming
Grisha's entertaining, active presentation includes powerpoint, videos, and (in venues that allow a dog on stage) live demonstrations. Her books and DVDs will also be available, including the new BAT 2.0 book.
Who Should Attend?
Teamwork seminars are open to the public as well as professional dog trainers, veterinarians, dog walkers, etc.
Dog Walkers. With the leash walking tips in the seminar, you'll save strain on your arms and back and also be able to offer a better service to your customers.
People with who can't take their dogs to group classes because of aggression, fear, excitability, age, illness, or busy lives.
People with dogs who are about to take group classes. Many dog training classes are overwhelming, especially when the family doesn't know much about force-free training before the class begins. This will also give you an idea of what to look for in a local dog trainer.
People in group classes. If you are already in a class, the fundamental information in this seminar will help you reduce stress and get more out of the lessons with your trainer.
Professional dog trainers. Grisha's training is based on empowerment and solving problems by meeting the dog's needs. As a professional, it can be very helpful to get more tools to work on these common issues. This is especially useful if correction collars are in your dog training toolbox, but it is even useful for for force free trainers who want to expand their techniques and get more explanations. 2 CPDT CEUS, IAABC CEUs available upon request.
Shelter Staff & Volunteers. These practical tips can be used with dogs at your organization.
Veterinary Staff.  Get some insights into modern dog training so that you can make better referrals.
Speaker:
Grisha Stewart, MA, CPDT-KA is an author, international speaker, and dog trainer who specializes in dog reactivity. She developed the Behavior Adjustment Training (BAT) technique and is the author of 3 books and a dozen DVDS. Her newest book is BAT 2.0: New Practical Techniques for Fear, Frustration, and Aggression in Dogs.
Grisha runs Empowered Animals, LLC and her online school, the Animal Building Blocks Academy, from Oregon. She and her family live near the coast, where dogs Bean and Zuki inspire her to always learn more.