Before I was a professional dog trainer, walking my dog was a struggle. Over time, I developed a way for walks to be relaxing, enriching, and fun. This 1.5 hour video is part of my Empowered Animals series and it has my best walking tips to transform the relationship with your dog.
Two of the major problems people have with their dogs are 1) pulling on leash and 2) reactivity on leash. These two problems are related and can be helped with the techniques in this video. Both ends of the leash get training in this practical video for trainers and pet owners. It takes two to pull, so training people and dogs together makes for a very effective solution.
I just want to send you a HUGE THANKS!! I adopted a spirited little 2 yr old Brittany recently. She was never trained to walk on a leash and pulled like crazy. It was starting to take a toll on my body. Your Walk With Me video and Ahimsa training manual have been a huge help. She is very smart and very sensitive and your techniques help me connect with and harness her innate intelligence. I also appreciate the methodical step by step demonstrations and the BAT leash techniques in the Walk With Me video.  Just tonight, after only a couple days of leash training, she did not pull once. She gets it! --Catherine H.
If you have already purchased this video, please log in with the user info you created.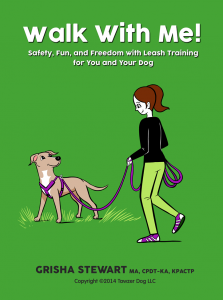 Video #2 in the BAT 2.0 Empowered Animals Series (Buy the set)
Presented by: Grisha Stewart MA, CPDT-KA, KPACTP
Instant streaming on your computer or mobile device (not a download - physical DVD sold separately)
Watch as many times as you want!
Run time: 1 hr 26 mins
Produced by TawzerDog in 2014 for home viewers (not just a filmed seminar)
Includes a PDF with slides to go along with the video
The three major topics covered are: BAT Leash Skills for People, Loose Leash Walking and Heel. Grisha does practical demonstrations of when to use each skill, breaking them down into easy-to-learn steps. She also explains several ways to teach heel and loose leash walking, since not every technique fits every dog.
Purchase: Feature Film - Walk With Me!
---