Online seminar recorded December 15, 2015 - Presented by: Jo-Rosie Haffenden. Get the scientific foundation of Real Dog Yoga and how to involve this practice in all of your training. "Yoga is defined as the stilling of the senses. It is a practice which involves people taking and holding specific postures, focusing on the present, and working on physical stimulation as a pathway to still themselves mentally. Real Dog Yoga shares the same aims [but for dogs], as well as improving focus, body consciousness, and dog-human connection."
---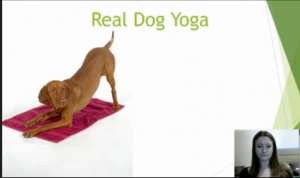 If you purchase this video below, just refresh the page and it will show up right here.
Use the form below to purchase the streaming recording, with a nice bonus: one FREE month of Student membership in ABBA, for extra support and a chance to ask Grisha questions. There are no strings attached. The membership will not renew automatically and you will keep access to this event recording indefinitely.
About this Online Seminar:
Presented by: Jo-Rosie Haffenden on December 15, 2015
Streaming on your computer or mobile device (not a download or a physical DVD)
Watch the recording as many times as you want
Run time: 1 hr 26 mins
Pro Members can earn CPDT CEUs (membership must be active on our next reporting date). The CEUs are only CPDT, not CCBC.
TOPICS:
This recorded on-demand streaming webinar is focused on some of the aspects that are beyond the postures discussed in Jo's book, "Real Dog Yoga." She went into mat work and how to create training dialogues. She discussed the following points in the seminar:
What is real dog yoga?
Why do some dogs fail in traditional training environments - even force-free ones?
HOW do we know when something in the training environment is poisonous to our dogs?
Contra Freeloading: Trusting the desire to work
Eyes on the prize: how watching food can remove choice with vulnerable dogs
What happens to the brain when we stop and put our tools down?
What is meant by a mutual training dialogue?
HOW do we train using the Yoga protocol
Base positions and using stillness to start on the right foot
Breaking as part of the process of learning
Measuring pace
ABOUT JO: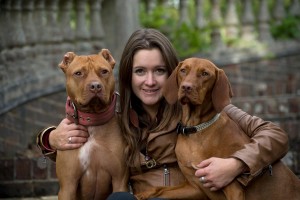 Jo has a degree in psychology and specialised in zoology; specifically attachment theory in young mammals. She also achieved post graduate qualifications in canine psychology and specialised in aggression. She is a full member of the Institute of Modern Dog Trainers (IMDT).
Jo has enjoyed working for The Blue Cross and also The Company of Animals before she started her company School4Dogs, which has 5 trainers and covers East Sussex in the UK. As well as being the recommended behaviourist for many rescue centres and vets, Jo also works as an expert witness for the courts in dangerous dog cases.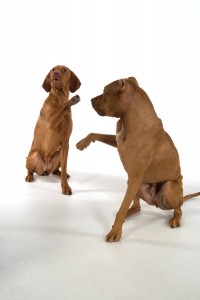 Along with numerous magazine articles and radio appearances, Jo has written a book about Calming Postures (called The Real Dog Yoga) which is available through Amazon and also Dogbooksonline.com in both English and German. She has also committed to two further titles with the same publishers.
She has lectured internationally including at the Dog Event in Paris earlier this year and also lectures for the Institute of Modern Dog Trainers. In her spare time, Jo enjoys clicker training lots of animals from ponies to chickens. She uses her own pit bull, Vizsla and Border Collie, chickens, Falabella pony and her Bengal cat for TV and filming work. Animal Actors represent the animals. She has done work with Vogue magazine, Cosmopolitan, GQ, Topshop, adverts for Channel 4, BBC and ITV along with short films, two comedy series for ITV and a BBC short film.
If you are already a member or have made a purchase at ABBA before, please log in with the user info you created.
Other Useful Links related to questions or topics from this online seminar:
If you like this seminar, please help us out by sharing this page on Facebook!