The recording of Grisha's April 28, 2015 interview with Joey Iversen is below. 
These monthly interviews are normally for Professional Members only, but we have made this recording public. Please share it on Facebook or wherever you can, to help spread the word about ABBA.
We hope you will join us for the live interviews and other great features of our school. Click here for membership info.
Topics for questions: Dog reactivity, setting your human learner up for success, TAGteach, Pet loss, BAT, minimizing stress in a dog daycare, using scent activities to reduce stress
"I chose Joey Iversen as the first guest expert for this Animal World Superstars interview because she's one of my favorite trainers on the planet. She has a clear teaching style and communicates well with clients - not by accident, but by design. She has a lot of experience working with pet owners and trainers, she's smart, and she has her finger on the pulse of modern, ethical training." - Grisha
Here are the questions that Joey answered in the session:
Demand Barking (barking for attention) what is your favorite way to teach the dog to stop barking at their owner? Thanks 🙂
I LOVED the video of your puppy training class. I have been teaching classes for a few years, including puppy training and advanced classes. The more I learn in ABBA, the more I worry that maybe my puppy classes aren't as good as they should be. What are the main things you see going wrong in other puppy classes, and how do you recommend we avoid those pitfalls?
I have a dog that whines incessantly while travelling in the car. How do I address this and get him to be quiet?
I am starting a therapy dog program at a senior center near me. What advice do you have for me, in terms of training for the dogs and protecting the dogs' wellbeing
Grisha said you had "creative antecedent arrangements" for training set-ups. What does that mean?
What are some common stumbling blocks you see for trainers who are looking to take their skills (working with dogs, or working with dog guardians) from the intermediate to the advanced level?
Is there a specific theory gap that is undermining the application of technique? Or do you see skill sets that are primarily limited by imprecise mechanics?
You mentioned elsewhere that you have a Voyce collar for Pirate. What have you learned from that? What could it be used for?
I am working with a leash reactive Boxer who salivates and gets very aroused every time she sees another dog on leash. I've been working on desensitization and treating for orienting towards other dogs, but she won't disengage of her own choice, I still have to pull her. Is it better to try to socialize her more with other dogs, or just keep up with this protocol?
You always seem to have so much energy! How do you keep from burning out, as a trainer?
What do you do for self-care?
What projects are you currently working on?
---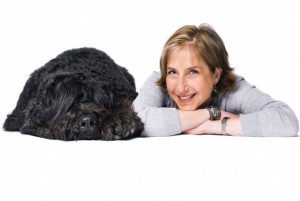 Date: April 28, 2015, 12 noon - 12:45 pm PDT
Joey Iversen, CBATI, CPDT, KPACTP
Joey was one of the two speakers that Grisha brought on board to teach official 2-day BAT seminars during her hiatus in 2014. Joey has taught BAT seminars around the world, including China, Taiwan, Denmark, and Canada.
With over 17 years experience training and showing both dogs and horses, Joey Iversen has worked with all breeds of dogs and their owners. She is also a frequent guest (and sometimes the host) of the "Raining Cats and Dogs" radio show in Seattle.
Joey's calm, patient manner and her focus on pedagogical skills makes it easy for people and dogs to understand and learn from her.  Joey received her Certified Pet Dog Trainer title from the Certification Council for Professional Dog Trainers and is a member of the Association of Pet Dog Trainers.  She is a graduate of the Karen Pryor Academy for Animal Training and Behavior. Joey is also TAGteach Level 3 Certified.
Joey has reinforced her knowledge by attending hundreds of seminars, training sessions, and workshops given by internationally renowned experts.
"Happy, well trained dogs don't just happen," Joey says.  "I believe the key to effective training is understanding canine learning and communication.  I teach owners to communicate with their puppies and dogs without force, by leading, targeting, shaping, bonding, and reinforcement of proper behavior.  I really enjoy coaching people and their canine companions."
In 2007, Joey relocated to Washington from Iowa where she developed and co-owned a successful training, daycare, agility center and boarding facility.  There, Joey developed and taught all levels of dog and puppy obedience classes, agility, CGC, Rally-O, private lessons, and behavior counseling.  She coached competitors in all canine sports and personally holds titles in Obedience, Rally-O, and Agility.
Joey has a passion for helping youth and teenagers.  She and her Black Russian Terrier, "Pirate" are a registered Pet Partner team with Delta Society and participate in Animal Assisted Therapy, the Reading Education Assistance Dog program, and numerous other animal-assisted activities to better the lives of children and families.  She received a Certificate in Animal-Assisted Therapy Activities and Learning from the University of Denver Graduate School of Social Work.