Please log in as a Pro member to see the recording of Grisha's November, 2016 interview with dog trainer Jordan Shelley below. 
If you are not yet a member, we  hope you will join us for the interviews and other great features of our school. Click here for membership info.
Note that we have some great upcoming online and in-person seminars.
Topics for questions: dog training, group classes for fear and reactivity, crossover trainer experiences, cultural differences among dog people.
Questions from the interview:
How did you transition from "traditional" (correction-based) dog training to positive dog training?
As you transitioned into positive training, what habits were hard to overcome?
What were the benefits of switching over to positive dog training?
Can you tell us about your 2-day reactivity workshops for the public?
How are the courses run?
Can you compare the different dog cultures around the world?
You've done a lot of rescue and fostering, can you talk about your opinions in that arena?
What's your opinion of dog shows, like Crufts?
What advice would you give to someone considering becoming a professional dog trainer?
What project(s) are you working on now?
Links and tidbits from the interview:
About Jordan Shelley: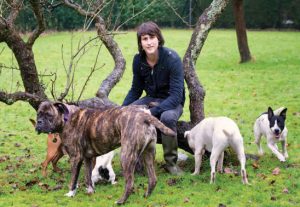 Jordan is a talented dog trainer based in the UK. He is one of the most famous crossover trainers in the world, who switched from traditional force-based training to positive dog training after a giant backlash against his appearance on BBC's "One Show."
Here's some information about Jordan's transformation as a dog trainer: