Taking force-free training a step further - from reinforcement to empowerment - Grisha focuses on helping dogs meet their needs in appropriate ways. Doing so can prevent and eliminate many of the behaviors that humans don't like.
If you have already purchased this video, please log in with the user info you created.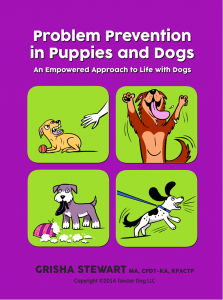 Video #3 in the BAT 2.0 Empowered Animals Series (Buy the set)
Presented by: Grisha Stewart MA, CPDT-KA, KPACTP
Instant streaming on your computer or mobile device (not a download - physical DVD sold separately)
Watch as many times as you want!
Run time: 2 hr 32 mins
Produced by TawzerDog in 2014 for home viewers (not just a filmed seminar)
Includes a PDF with slides to go along with the video
Empowerment is not only an efficient way to train our dogs, it is a big step in the direction of a high standard of humane care for the dogs who share our lives.
Grisha uses practical demonstrations to teach various skills, clarifies where problems come from, and explains how to mesh the needs of your dog with the needs of your family and the rest of human society.
This is a must-view video for breeders, puppy parents, dog owners, and professional dog trainers.
Purchase: Feature Film - Problem Prevention in Puppies and Dogs
---