We answer members' pet training and behavior questions in live sessions, which are recorded and provided here for easy access. Please log in or sign up for a Student or Pro membership to see the video on this page.
Questions in this video:
How to handle two dogs and one owner with BAT Leash Skills in a daily walk? 🙂 I have not yet seen all the Films. Perhaps there is somewhere information for this..?
zen is getting worse. when she sees something she will not move
I have had to go back to moving her with my knee. waiting her out we would be there for five minutes. treats, mime pulling, mark and move have already been tried. help!
Dog training is hard.
We have been using the MPS of hid bed to brush my dog's teeth since class last spring. Now when he does not want to have his teeth brushed anymore. Tried different treats, a new spot. Tried Premack with indication of his favorite game after brushing. None are working. No dental problems. Suggestions?
Question about "Sprinkles" game and frustration practice: my dog is becoming excited during "find it" practice used to calm down. It seems animal scents are distracting her and she is occasionally becoming super excited and dragging me over to a nearby tree to chase squirrels. I really need "find it" as a tool with her and don't want to mix my messages .... Help?
Parkour. European style. Where can we learn more about this?
I have a six month old Golden Retriever and she learned how to walk on the leash within a week of us getting her (8 weeks). In the last week or so, however, she has taken to just plopping down and not wanting to move where we are going. Generally, she only does this on bathroom breaks, not actual walks. I know she needs to go to the bathroom, and I know she isn't hurting because she will walk on walks and when you go where she wants to go, but this is DRIVING ME CRAZY!!All in all, my question is – do I just need to retrain her how to walk using silky leash or something similar?
Here are some of the links that Grisha referred to: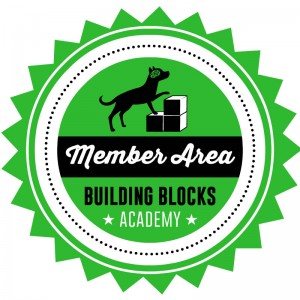 Building Blocks Members get instant access to video lessons, live Q&A, and more!

Professional, ad-free, expert advice

Click to Learn More
If you are already a member, please log in.